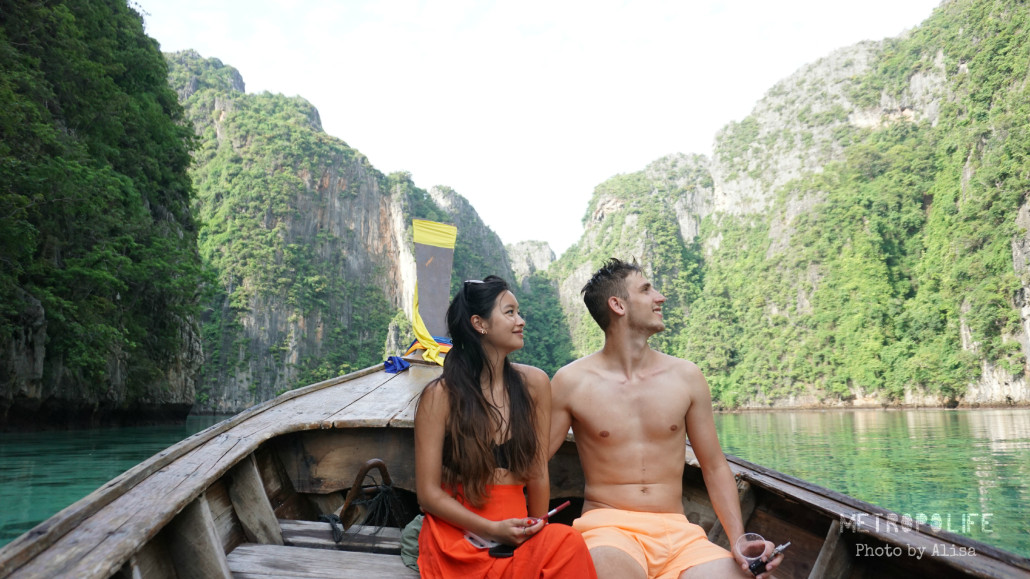 From all the places we have been in Thailand so far, Koh Phi Phi is our absolute favorite. Especially one of the days was just perfect. I want to share the details of that day with you, one day you might go there too and do the same as us.
We stayed at Ton Sai Bay at "The Beacha Club Hotel" right at the beach with a beautiful sea view from the room. It was a bit more expensive to stay at the Northern side of the island but it is more convenient and fun too, since all the parties and bars are at Ton Sai Bay.

On our "perfect day" we took a private long tail boat at 6am in the morning for 2000 Baht (around 40 Euro). We picked up my classmates from Copenhagen, Giulia and Alisa, whom we met coincidently the day before.
Sailing to Maya Bay
So the four of us and our boat driver named "Mr. Potato" sailed down South to Maya Bay, which is famous because of the movie "The Beach". We arrived there early enough to avoid all the tourists and tours.
Thomas and I went to Maya Bay "The Beach" in 3 different ways. The last time was on our "perfect day" with the private boat, which was the best way to enjoy Maya Bay. (Click read about the 3 different ways)
This time we could enjoy the bay and white beach without having any boats and tourists in front of us.
Like Leonardo DiCaprio, we had the entire island almost for ourselves. We sat down and enjoyed the view. What a great way to start the day.
Cliff jumping
Afterwards we spend an hour at "The Beach", Mr. Potato brought us to Losama Bay Phiphi, which was right opposite of Maya Bay. Thomas informed himself the day before and there he found the perfect spot to do cliff jumping. Full of excitement he climbed up the cliff and took the 17m fall into the blue ocean (Click here to View)
Monkey Beach and Dolphins
At this point we agreed, that the day couldn't get any better. Little did we know that this was not the end yet. We took a break at Phi Leh lagoon for a quick swim and snorkeling.
Then we sailed up North towards Monkey Beach, a beautiful spot with white sand and clear blue water with monkeys playing on the beach.
On our way there we were very lucky and met a pack of dolphins. They were swimming around our boat for a while. Mr. Potato informed us that dolphins come closer to the beaches after a few rainy days. None of us knew it, but apparently dolphins are that uncommon near Koh Phi Phi.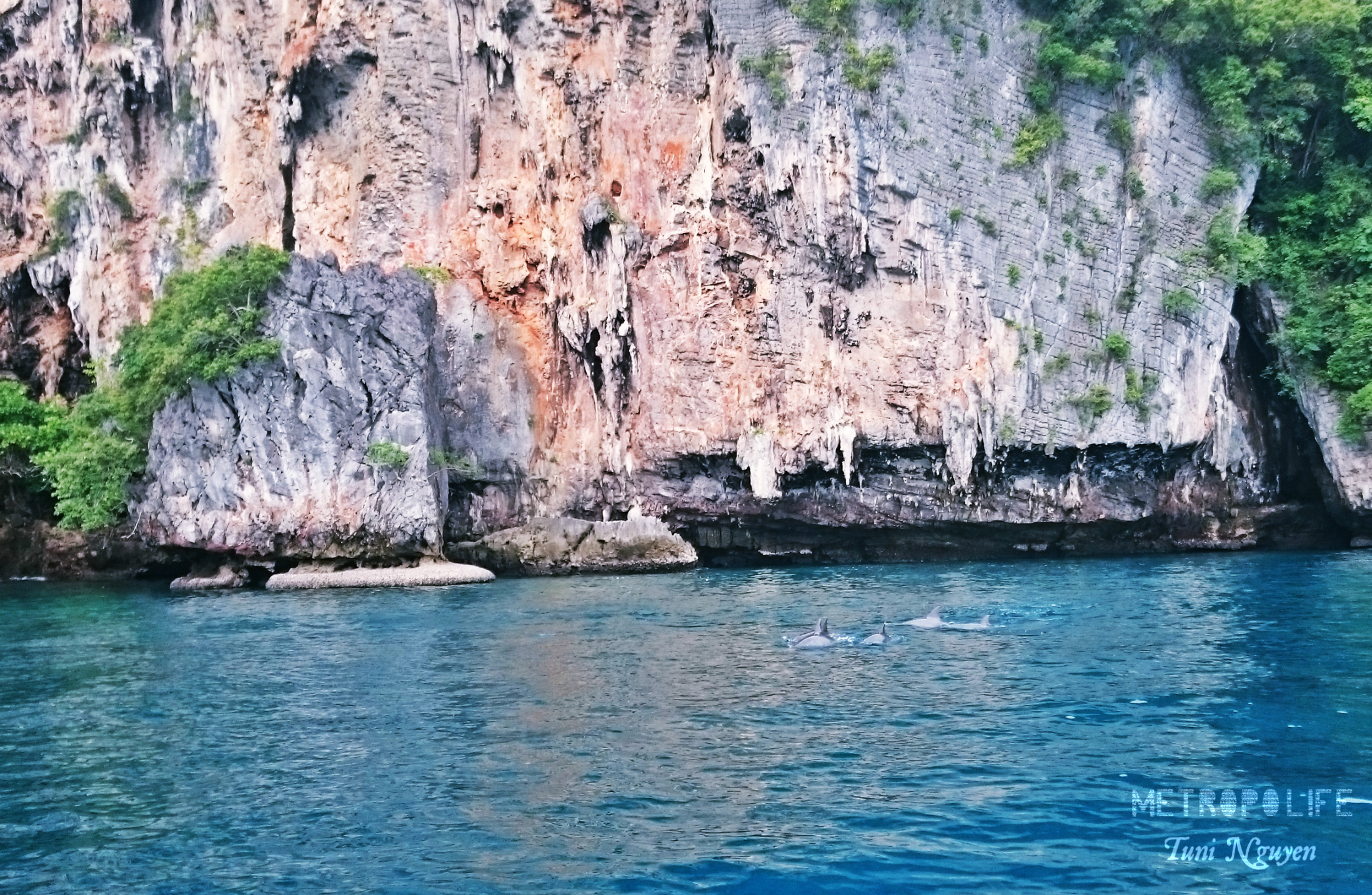 Our 3 hour boat trip ended after we visited Monkey Beach and we took a dip in the water, surrounded by high cliffs and rocks. Thomas and I both agree that it was the most beautiful beach during our entire trip. If you are travelling in Thailand, you should stay a few days in Koh Phi Phi! You can rent a canoe for about 200 bath and sail from Ton Sai Bay over to Monkey Beach (it only takes about 10 minutes).
The end of our "perfect day"
We were back at our hotel around 11 am and got some breakfast at the beach which came free with our room. The rest of the day we spent swimming and tanning at Ton Sai Bay until sunset. Personally, the best way to end a "perfect day" is getting dinner at "Grand PP Arcade". Alisa recommended the place, because she read a lot of positive reviews about that restaurant. Indeed, it was the best service and food we got in Thailand. Nat, the waitress, spoke perfect English, remembered us from the day before and she made sure that we got the food exactly how we wanted it – not too spicy and vegan for our friend. There was no wish she couldn't grant.
That was our best day in Thailand. So, if you are in Koh Phi Phi, stay at "The Beacha Club" and make sure to get a private boat and not a tour, wake up early to avoid the tourists at Maya Bay and Monkey Beach, enjoy the sunset at Ton Sai Bay and get dinner at Grand PP Arcade. I promise, you will love every minute of it 🙂
Also a last advise, these guides can be useful for planning your trips in Koh Phi Phi and Thailand in general 🙂
Have a great time, Tuni ❤️
❤️
STAY IN TOUCH
Feel free to leave a comment!
https://metropolife.net/wp-content/uploads/2015/06/Phi-Leh-Lagoon.jpg
1330
2365
Tuni
https://metropolife.net/wp-content/uploads/2015/05/metropolife-black.png
Tuni
2015-06-30 19:19:26
2019-01-31 13:19:40
The best day we had – Koh Phi Phi Island