In this post of my blog series about Taipei, I will introduce you to the district Songshan, which is where the famous Raohe Market is located. The area is a major financial center in Taipei, which is why you can find rather modern buildings in neighborhood  Compared to Dongmen or Ximen, the buildings and facade are relatively new. If you haven't read about these two areas of Taipei, check out my last posts about Taipei here. in this post, I will also show you where I stayed and shared one of the happiest memories of my summer with you 🙂
Anyway, let's get started with the main attraction of the area: Raohe Nightmarket.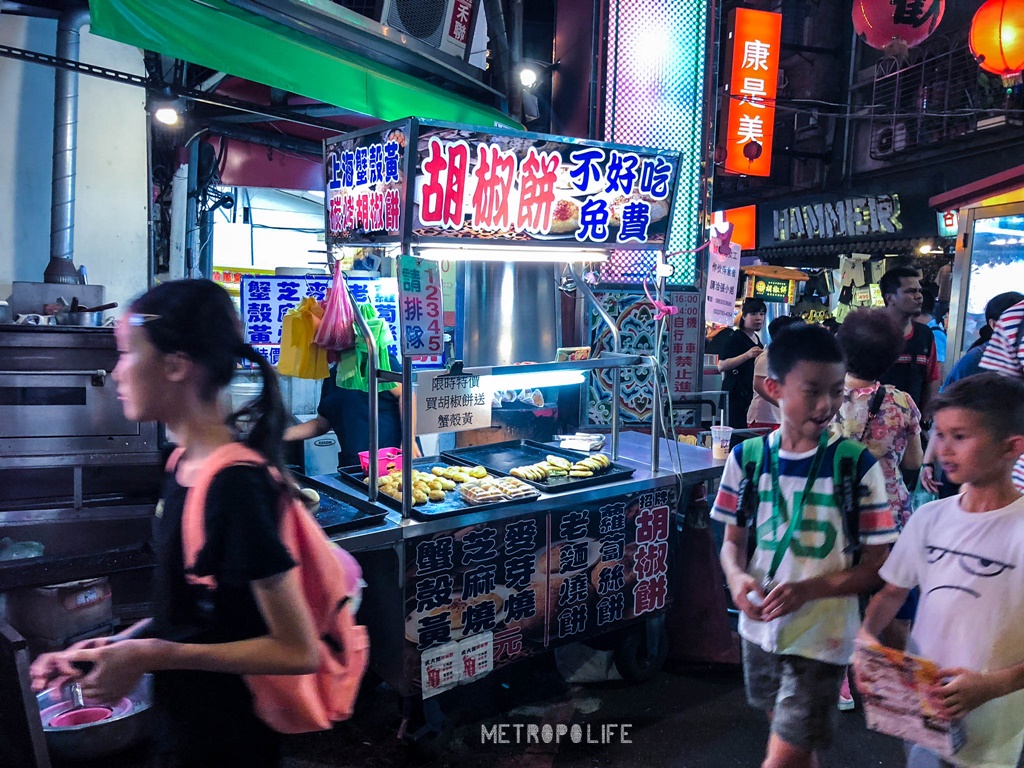 Raohe Nightmarket
What should I say .. if you are in Taipei you will have to visit the night markets in the city. Raohe is definitely one of my favorite ones. You will find a huge variety of local cuisines and must-eats, such as Pork Pepper Buns or Stinky Tofu (when in Taipei, do as the locals!). Some of my friends and my favorites are Torched Beef Cubes, Egg Omelette, and different skewers. Don't forget to get some dessert! for more food recommendations you can visit one of my best friend's blog Foodbaby – she knows where and what to eat in Taipei!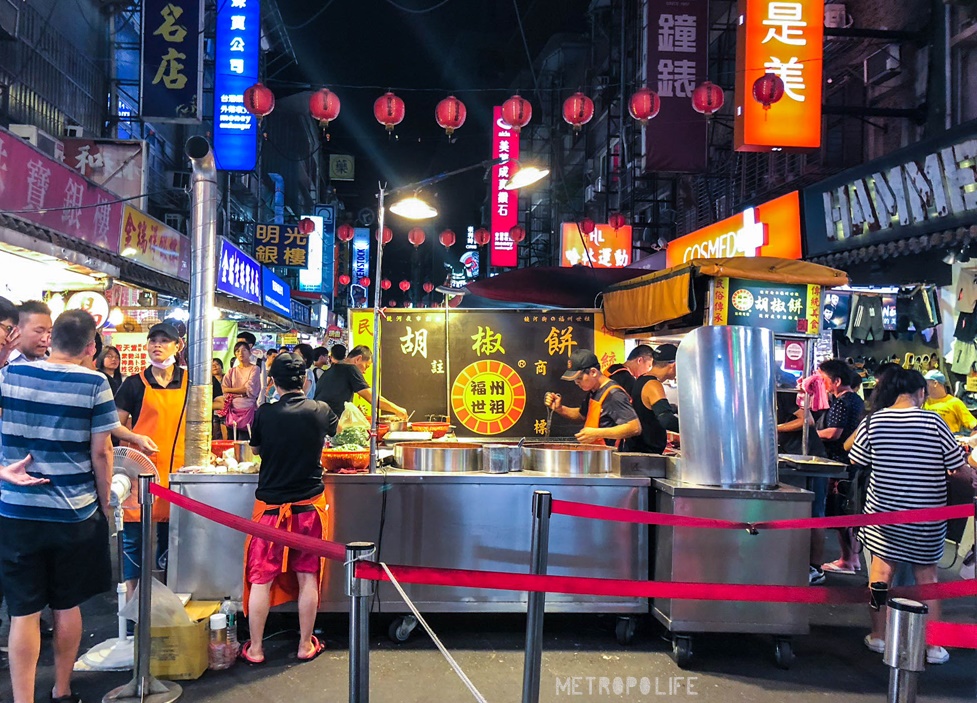 Raohe is usually quite busy and people are really taking their time to walk slowly from one stand to another. Even slower than the usual visitors are the live streamers who have a funny device around their neck to hold their phone and walk along the market talking to their fans and eating! So, if you go to Raohe Market, you definitely experience some local and interesting things, even besides the food 😀 By the end of the long, food-packed street you will get to Ciyou Temple – a beautiful and big temple by famous Raohe Nightmarket sign.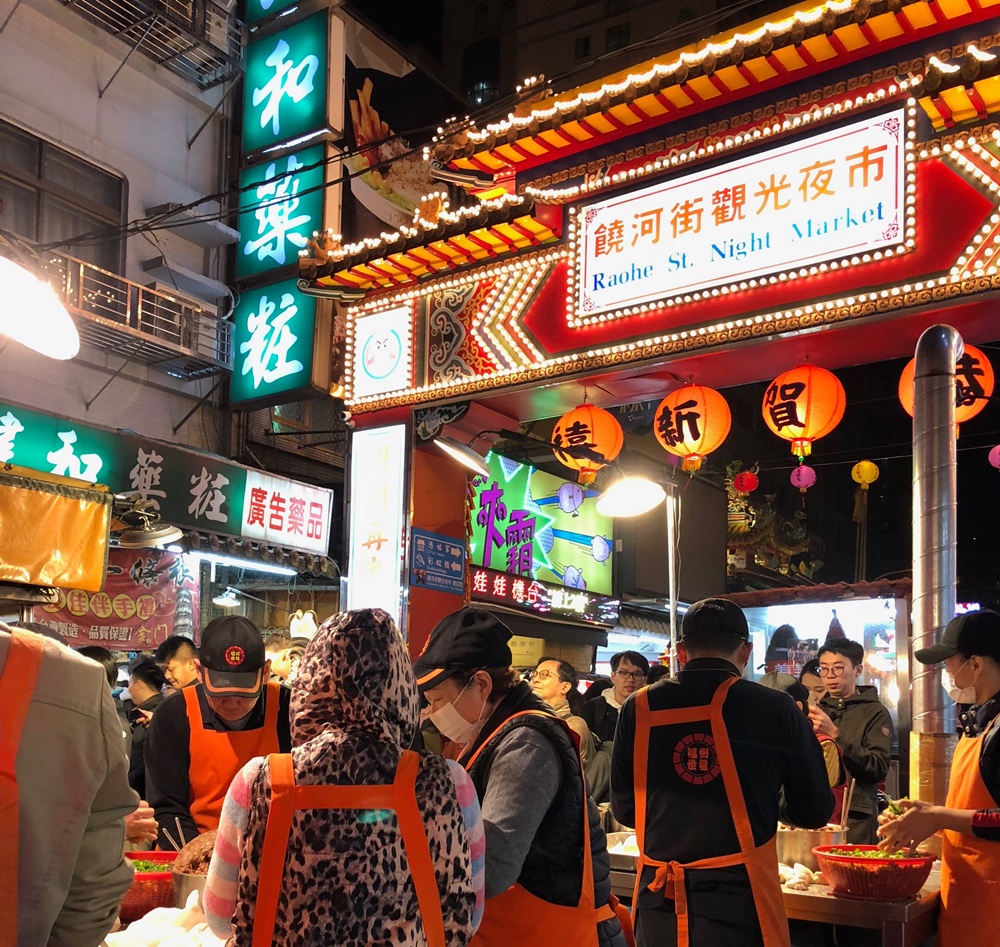 To be honest, I havent been inside Ciyou Temple myself but it sure looks impressive and beautiful from the outside!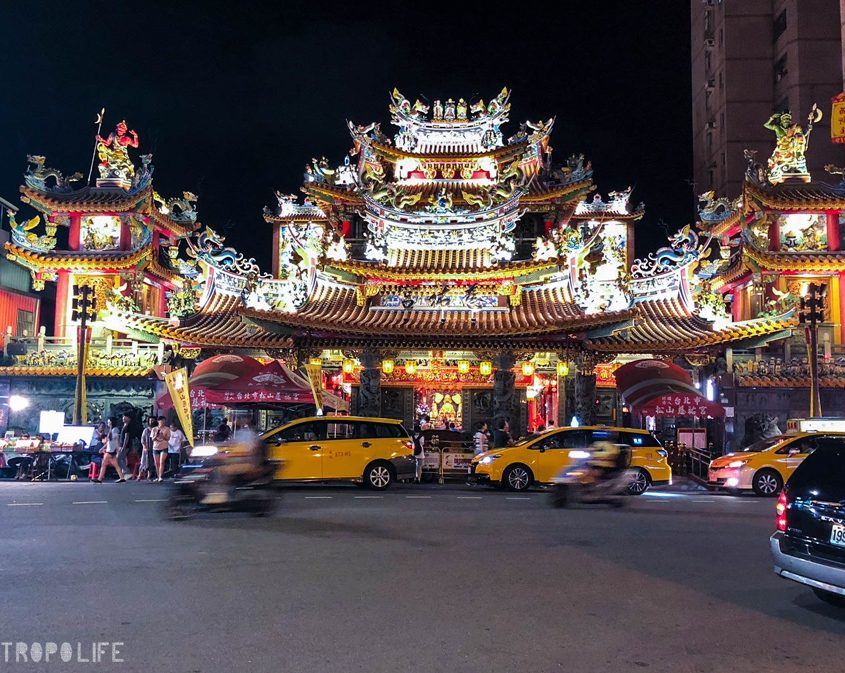 I enjoyed it every time I walked through the night market with my friends, especially because some of them are foodies and really felt like they arrived in food heaven. Good times – definitely would recommend you to visit 🙂
Shopping in Songshan area
Besides the usual night market souvenirs and accessories, you can find another place to shop in Songshan. Right above the MRT station is the CityLink mall, with Western and Asian brands, numerous stores and food options. For the (often occurring) rainy days in Taipei, you will have a safe bet with this one. You don't have to leave the metro station to get into the mall, it is right upstairs and you will manage to spend some hours in there for sure 🙂
Staying in Songshan
As the title said, I found the most beautiful, breathtaking view of Taipei in this area. I was invited to stay with the boutique hotel AMBA and I was lucky to see my beloved Taipei from a stunning perspective.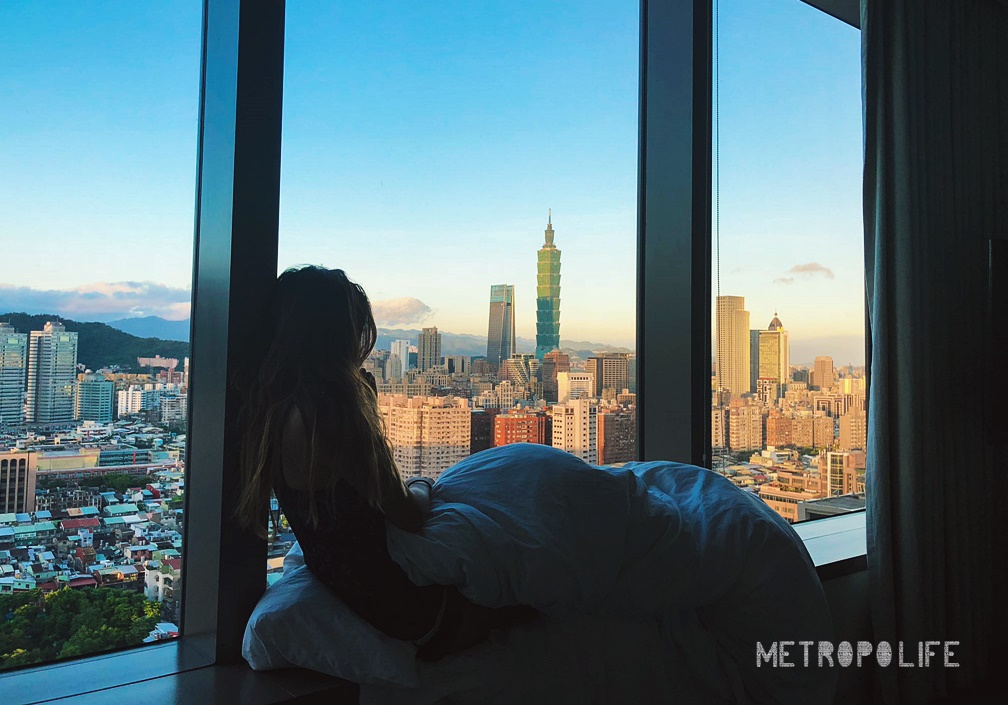 AMBA Songshan is located just a few minutes from the MRT station and you can walk over the sky bridge from the mall directly to the building where the hotel is located on the 17th floor. So on a rainy day, you can either stay in the hotel and rest, or walk to the mall and do some shopping – and not get wet and cold 🙂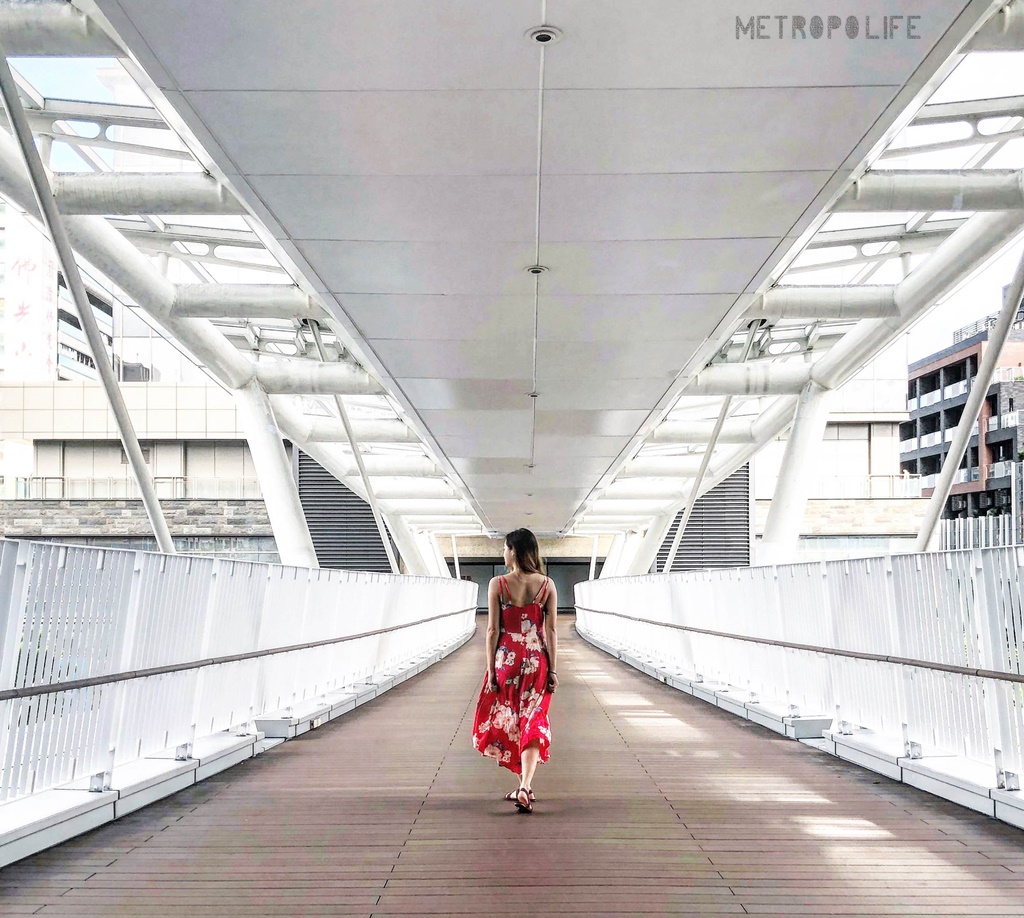 About AMBA
From the lobby and the room, you have the view of either the Keelung River or Taipei 101. The rooms were modern, bright and like I love it, minimalistic and stylish interior. We spent our time admiring the view, playing XBox on the flat-screen TV and danced to the music on the Bluetooth speakers.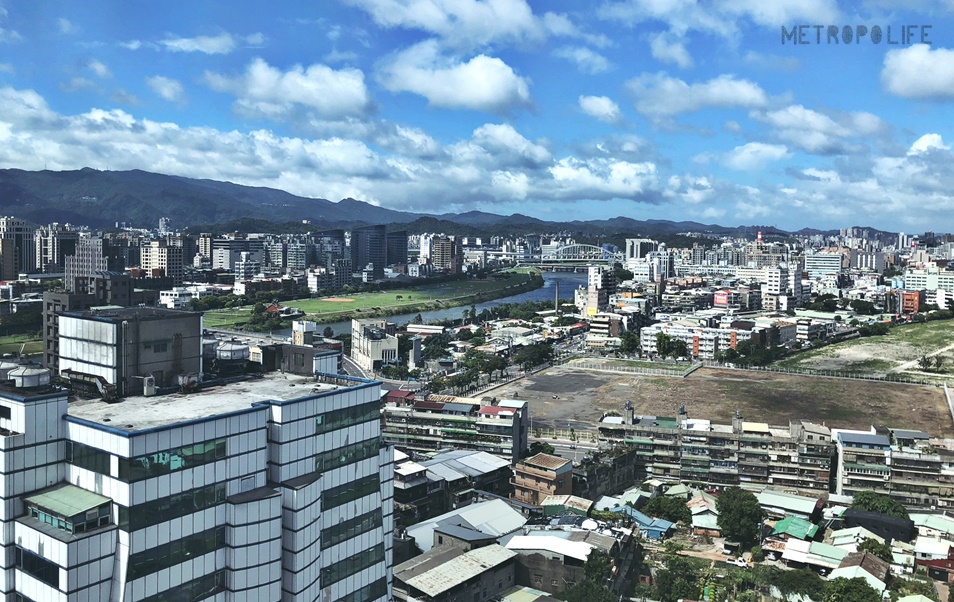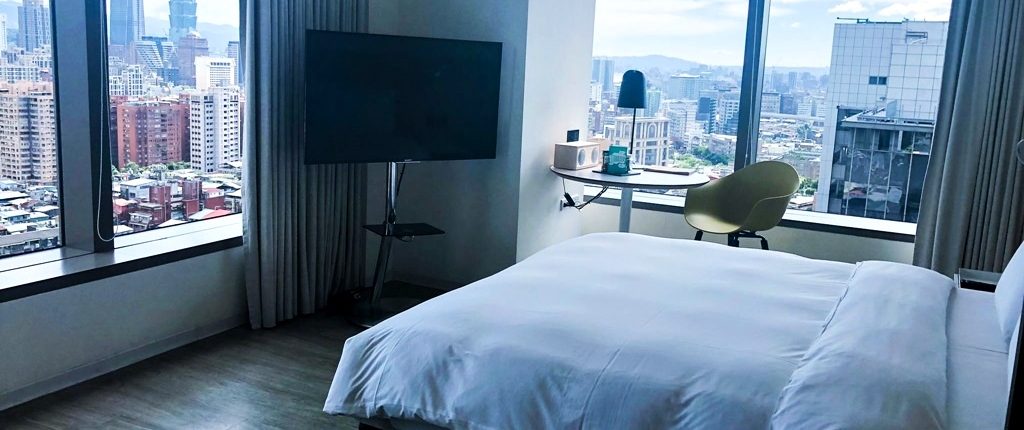 I enjoyed spending every minute in my room and if I wasn't, I was either hitting the gym, working in the lobby with the amazing Taipei 101 view or getting food in the in-house restaurant QUE in the 17th floor. Cindy from Foodbaby, our friend and photographer Rachel and I went into a literal food-coma after eating in the hotel restaurant QUE and had to recover by laying in bed for hours, unable to move 😀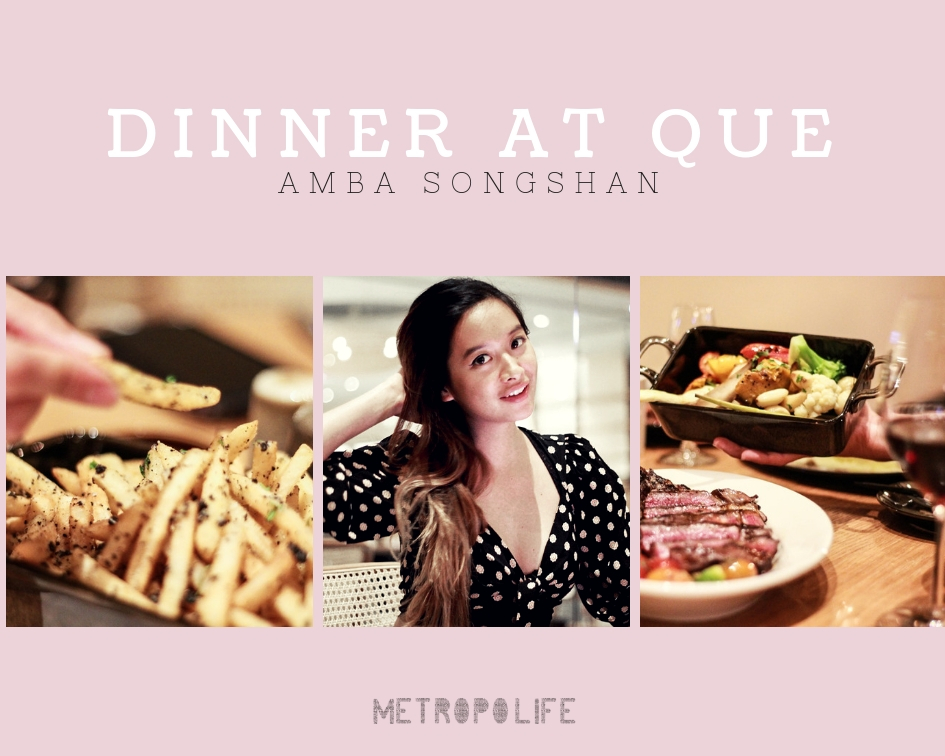 We recommend the special beef noodle soup by the chef and the fries with truffle. To be honest, we enjoyed every dish and were happy to meet the chef in person, who told us that everything served in QUE in-house.
You can find more information on their website: AMBA Songshan
Address: No. 8號, Section 7, Civic Blvd, Nangang District, Taipei City, Taiwan 115
My happy place: Taipei
You can check out my VLOG and get a glimpse into my summer in Taipei. Check from the 10th minute to see our time in Songshan and fall in love with the view, my adorable friends and our food adventures 🙂
These were definitely one of the most special memories I have of my summer in Taipei. Not only because of the amazing night market, the lovely view and relaxing time in the hotel but also because I got to spend so many happy moments with my friend Rachel and Cindy, who I miss so much – now that we live in different cities. Just laying around in the bed and making fun of our faces with Snapchat filters and being happy that we found each other.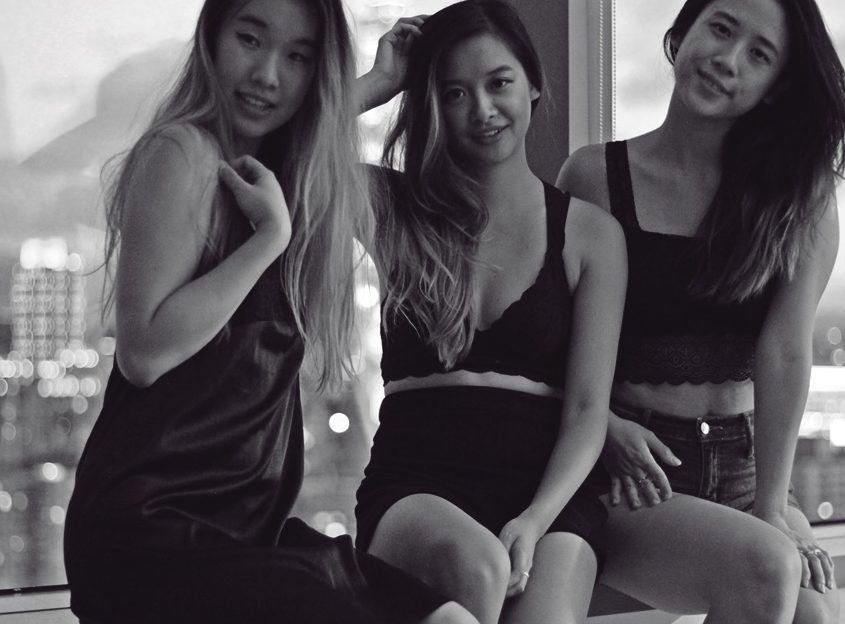 These memories are some of the ones I treasure most and that always put a smile on my face. I hope you will enjoy your time in Taipei as much as I do every time I am back 🙂
Thank you so much for reading – Lots of love, Tuni ❤ Check out my last post about Taipei: Exploring Dongmen or get an insight into how I stay healthy and be a better version 
[instagram-feed]
Feel free to leave a comment!