There is one city you should add to your bucket list: my all-time darling Lyon! 
It is no secret that I am absolutely in love with Lyon ever since I spent last summer there. However, it is not only me that is head over heels with Lyon! The city won the World Travel Award for the "Best City Break Destination" in September!
And this was the perfect excuse for me to return to Lyon for a weekend. If it would be for me, I would give the city the Metropolife award for the world most charming city 😉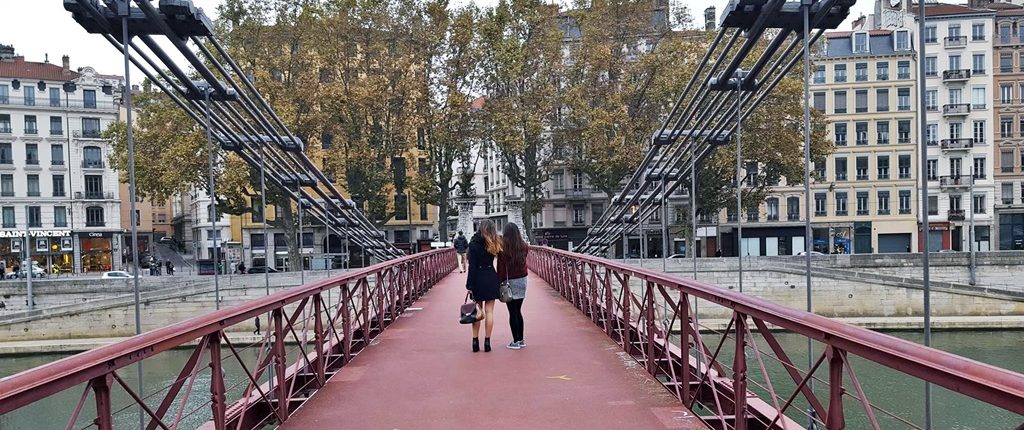 On the bridge at the Sâone
Lyon is adorable to live in but furthermore, it is a great destination for a short vacation. You get the whole package: city life, gorgeous food, lots of sightseeing, beautiful promenades and romantic sunsets with view over the city 🙂 Today, I want to share with you the plan for a perfect weekend in Lyon (2 or 3 days):
---
The 1st day: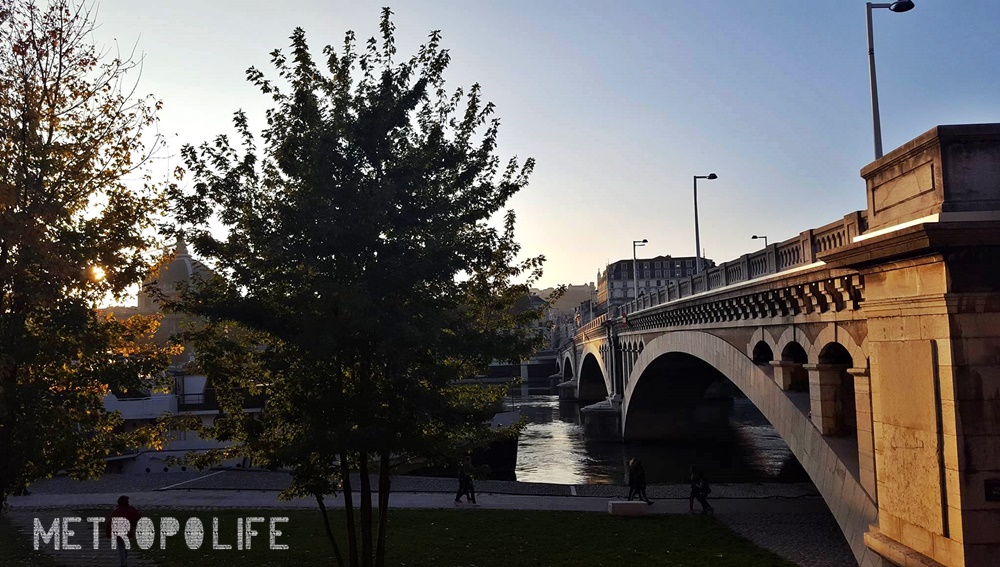 Along the river Rhône[/caption]
After your flight, finding your accommodation and checking in, you probably don't want to start hardcore sightseeing right away.I felt the same. After I arrived in the city, I went for a relaxing, charming walk along the river and promenade. Walking under the trees and beneath the water has something calm and absorbing, it is the perfect way to start to get to know Lyon, a city which is both vivid yet peaceful and charming.
If you keep walking along the Rhône, you will eventually get to Parc de la Tête d'Or. The park is enormous and you can spend hours in there: you can visit the free zoo, sit by the lake in the center of the park or get lost between hundred of different plants in the botanical garden and discover more trees and plants in the greenhouse.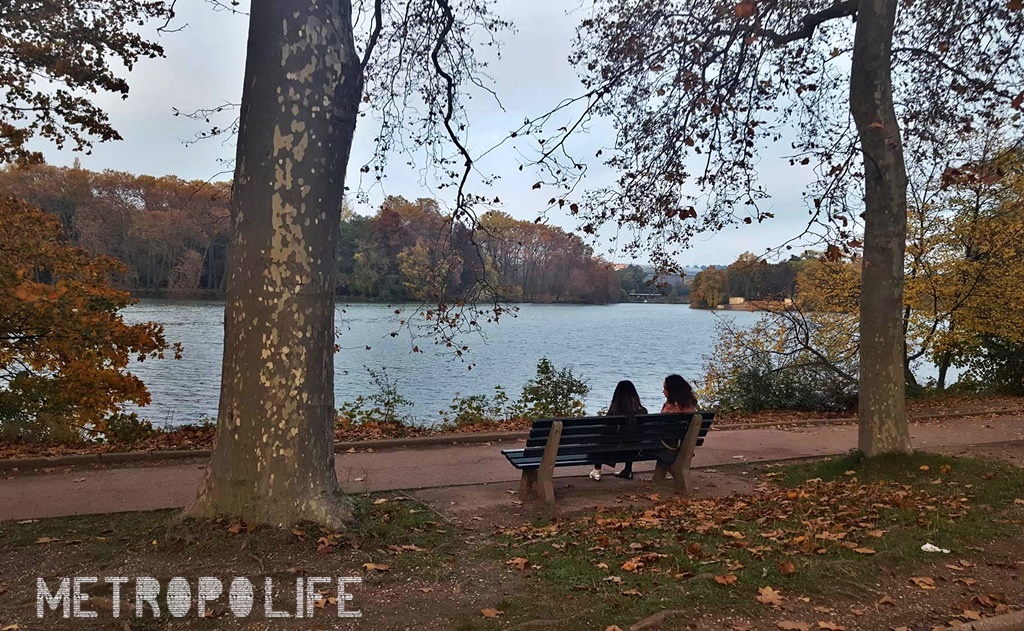 Around the lake at Parc de la Tête d'Or
You can go inside the greenhouse during the day. Check the opening times of the greenhouse (Jardin Botanique/Serres) here. There is also a playground, a small rose garden and lots of green space to rest and enjoy the surroundings 🙂 The perfect way to start discovering in Lyon!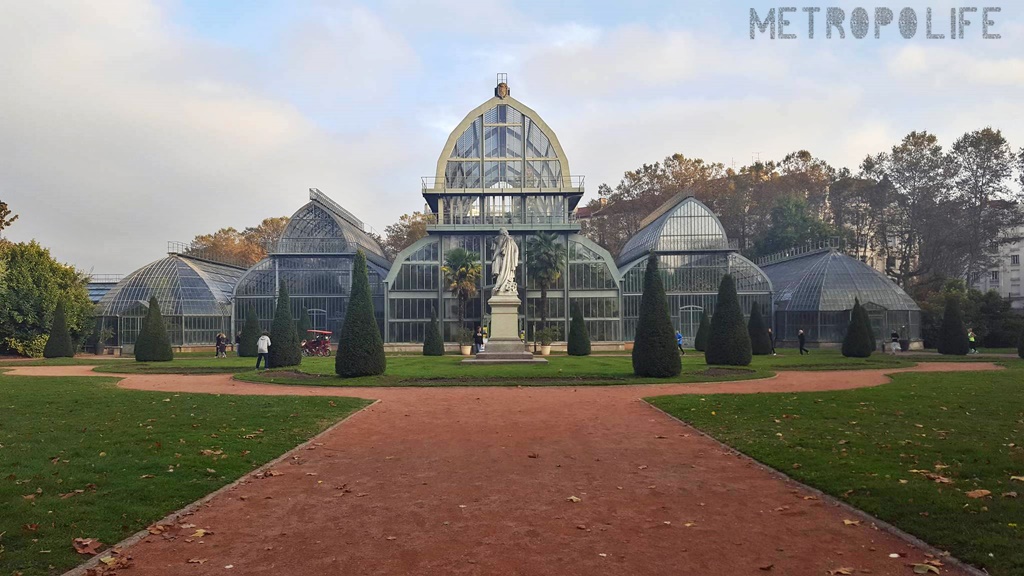 The greenhouse in Parc de la Tête d'Or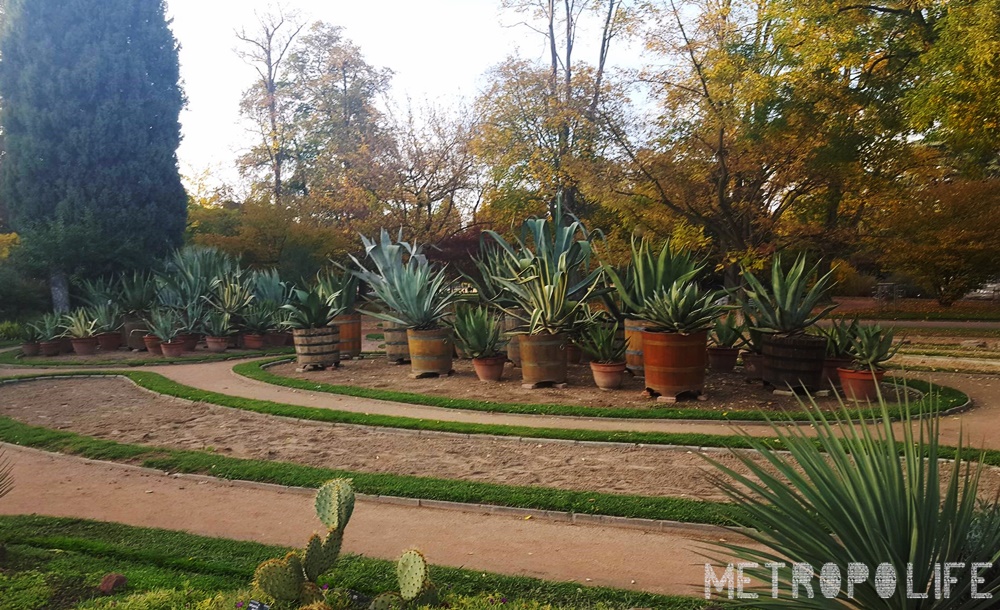 One part of the Botanical Garden in Parc de la Tête d'Oralign="alignright" width="262″]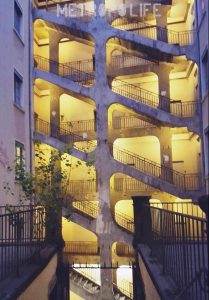 Between the Traboules
After such a relaxing time, I assume it must be later in the day, you can either walk uphill to Croix Rousse and see the artsy part of Lyon before sunset (or if not, just take the metro up to Croix Rousse).
Besides cute cafés, street art, impressive and colurful graffitis, jazz clubs and theaters, there was one thing that I viciously loved about Croix Rousse:
the Traboules.
These are narrow, almost secret paths between the buildings, that silk worker used in the past to get their silk safe and sound from one place to another. A bit like secret channels in between the buildings. And these are short cuts too, you will get on top pf Croix Rousse in no time.
Walking through these make me feel like going back in time 🙂 You shouldn't miss that and don't forget to look up and enjoy the beautiful details in the architecture of the buildings!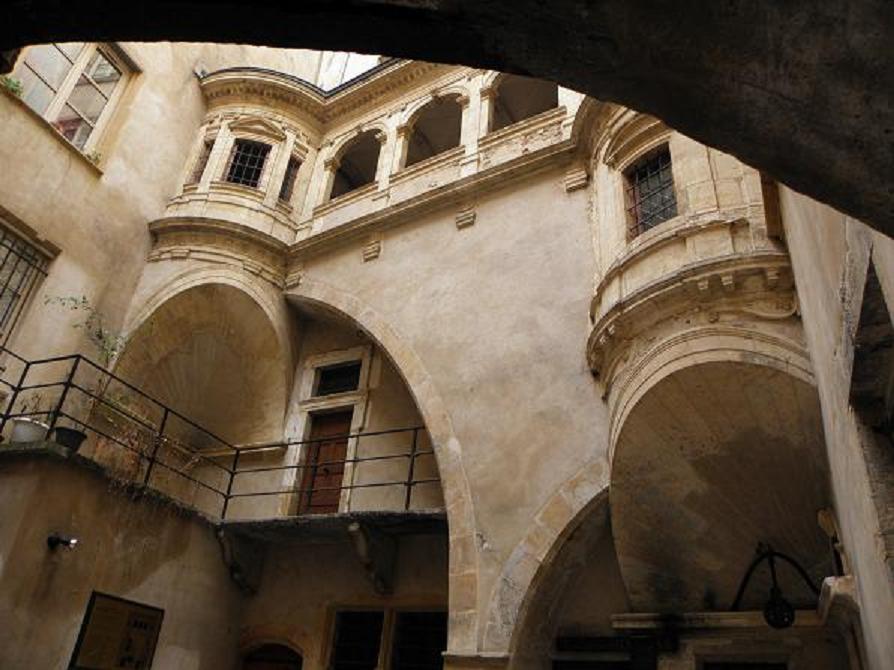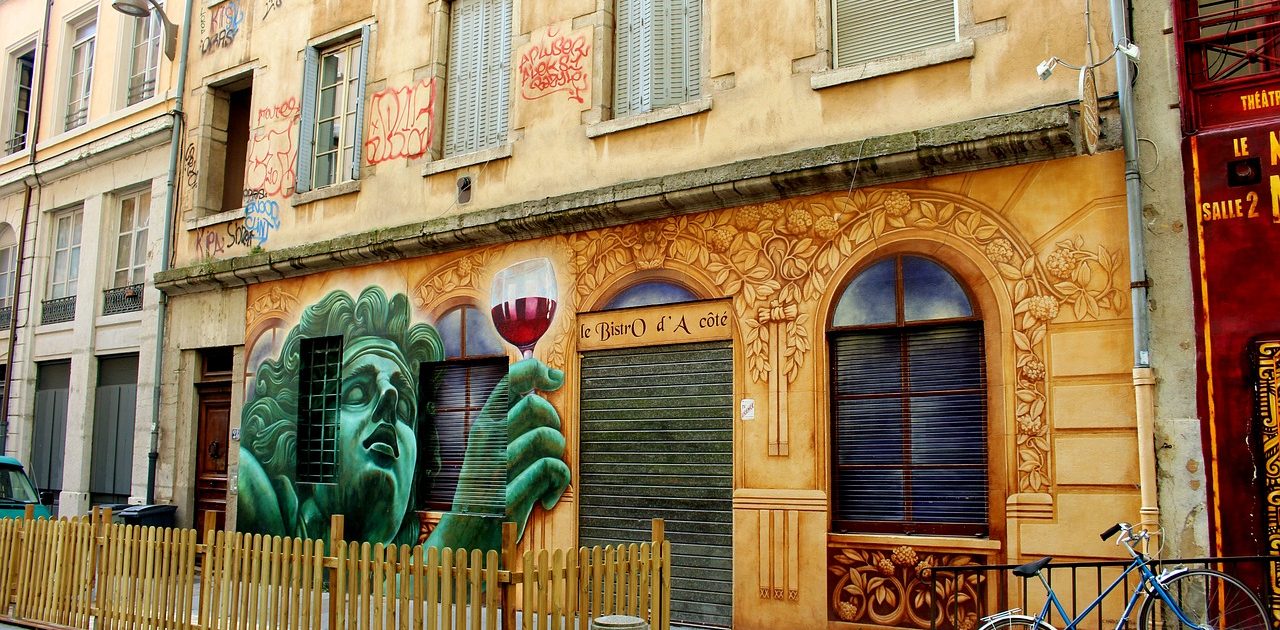 And after walking up the stairs, through the narrow traboules and the steep streets, you will be rewarded with a beautiful view over the city.
Besides, there are lots of places uphill where you can get dinner or/and grab a drink and regain some energy before you walk all the way down (or just take the metro again, which runs until midnight, and you will be downhill in just a few minutes) 😉
---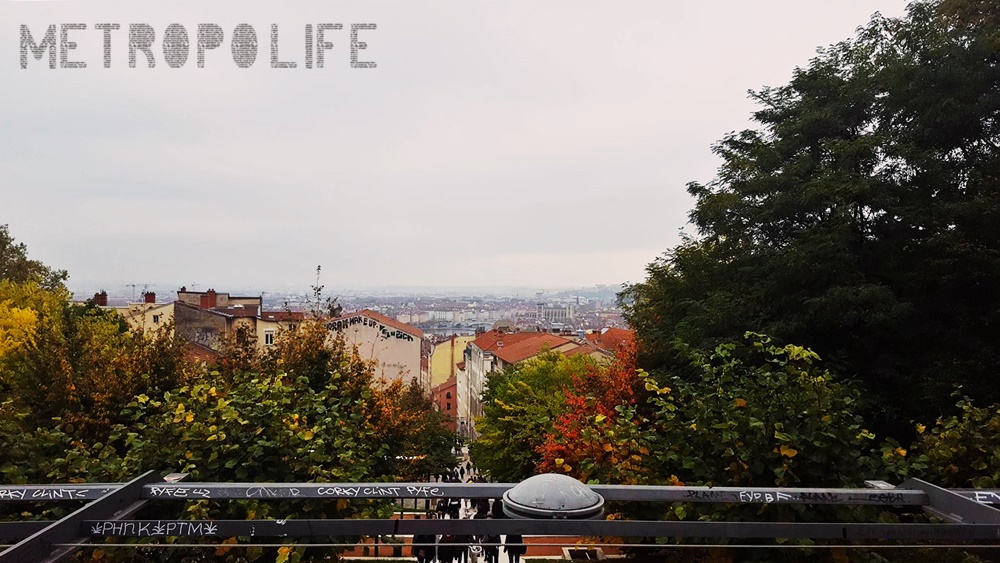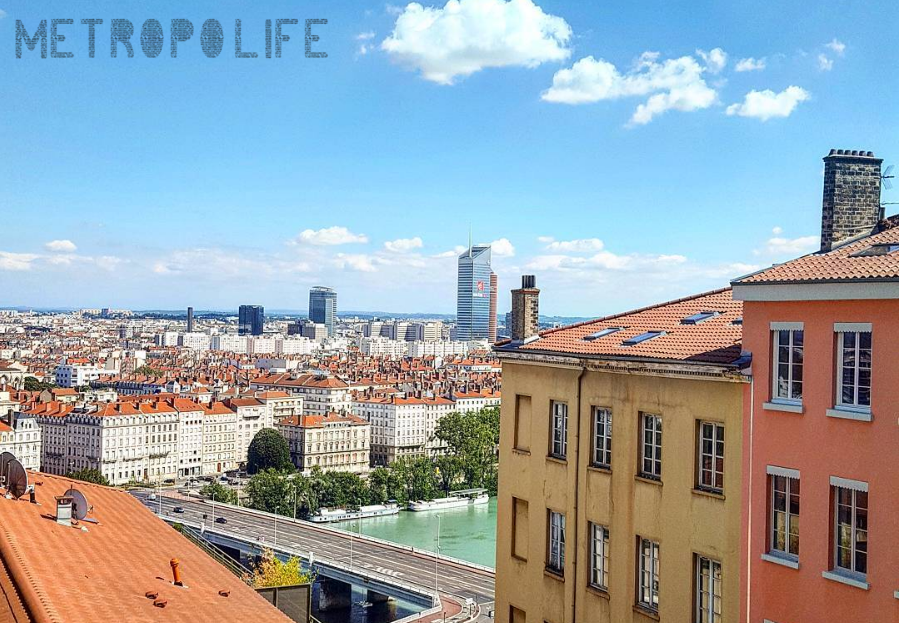 ---
The 2nd day:
3 words: Lyon's old town. You should start your day with one of the prettiest places in Lyon (who am I kidding, everything about Lyon is beautiful!). I always was drawn to the vibe of this part of the city.
It is the embodiment of French beauty for me 🙂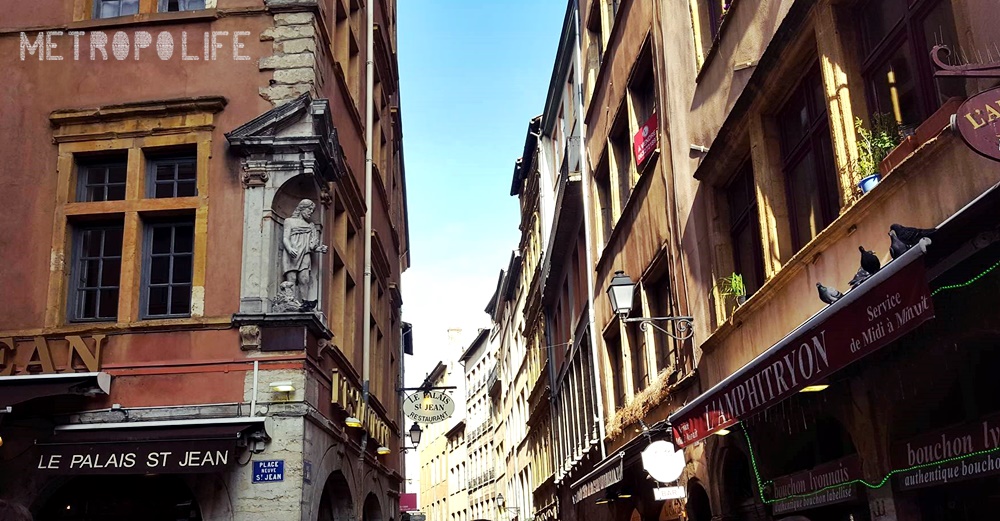 The colorful and charmingly aged buildings, the little cafés, restaurant squeezed together in the narrow streets and the square with the majestic Lyon Cathedral. Tourists, locals, birds, my favorite ice cream men, everyone is enjoying Vieux Lyon. Absolutely wonderful 🙂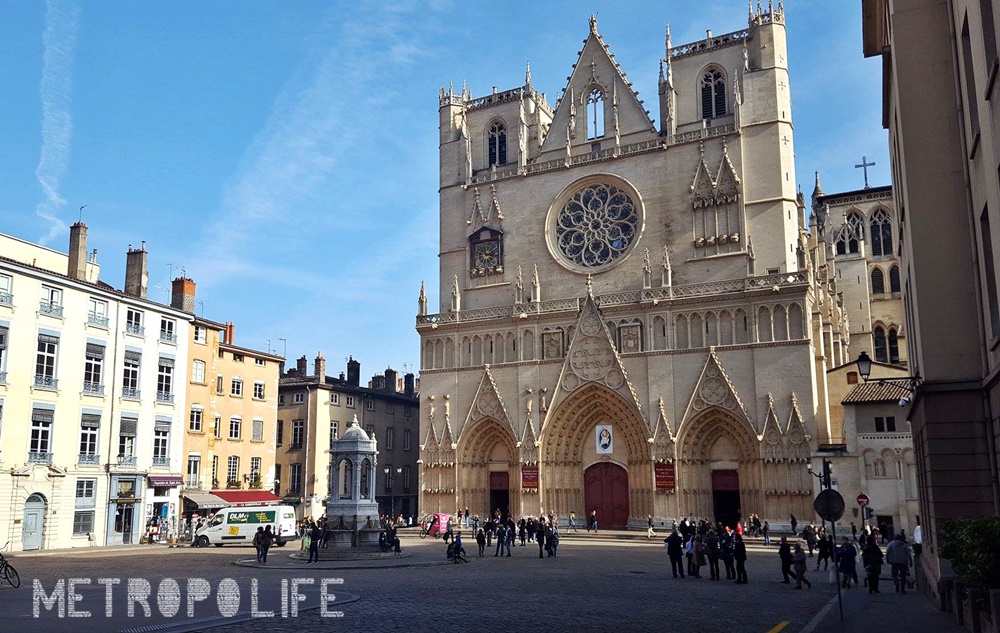 I think the pictures will speak for themselves, but if you need more convincing: in Vieux Lyon, you will find the best ice cream I have ever had! And you might say ice-cream in winter? Welp, they have waffles and winter specialties as well, don't worry 🙂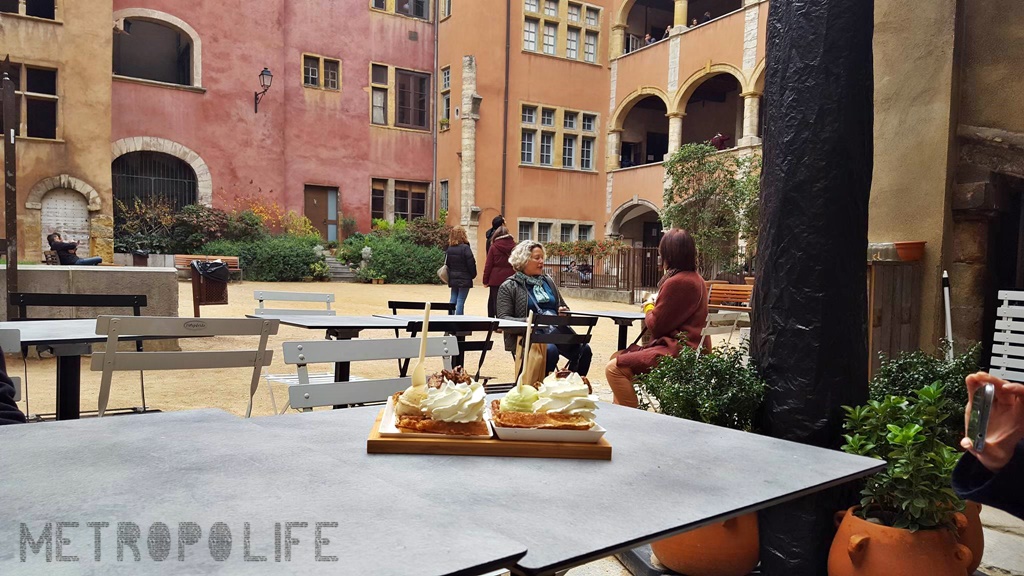 Believe me, you have to visit La Fabrique givrée (66 Rue Saint-Jean, 69005 Lyon) and it is a great place to treat yourself with deliciousness before you continue.
Then after spending your time strolling around in Vieux Lyon, you should hike up the street Montée du Gourguillon, which will be a highlight itself.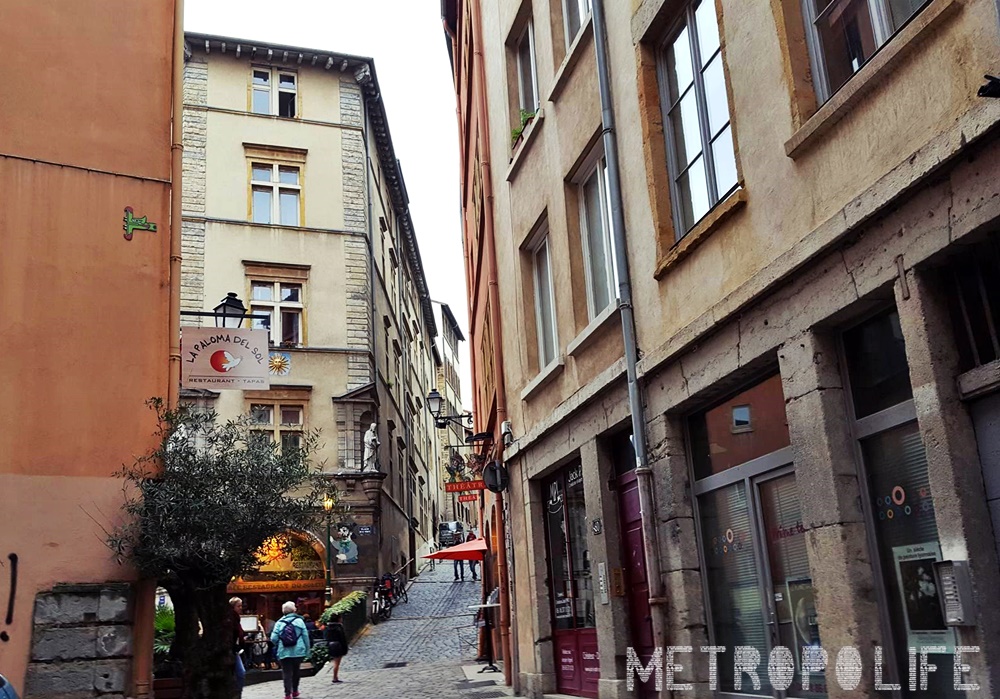 After approx. 2 km you will reach the park Jardin des Curiosités. In my opinion, the view from there over the city is the most stunning one you can get. We were there on a Sunday midday and it was completely empty and silent. We could enjoy the view all by ourselves and there was no touristic atmosphere or any noises besides the city beneath us. Up to this day, this was one of the most wonderful moments I had in Lyon and I am always thinking back with a smile 🙂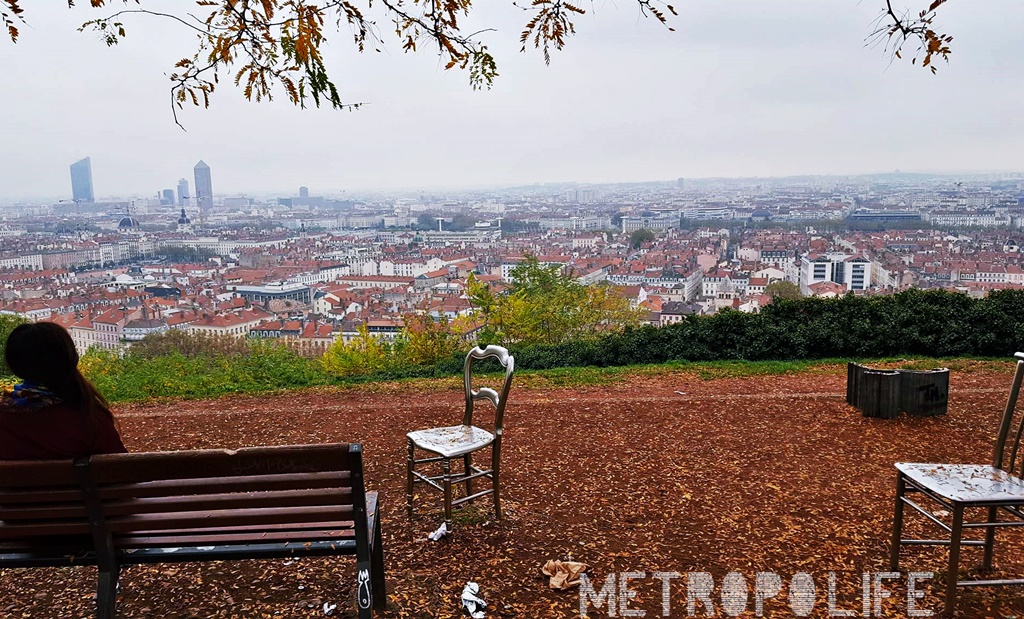 After all the calm and easy ambiance, you can keep walking up and eventually you will get to Fourvière, which tends to be more touristic and busier than the Jardin des Curiosités. But it is a most do to see the La Basilique Notre Dame de Fourvière from up close and from inside.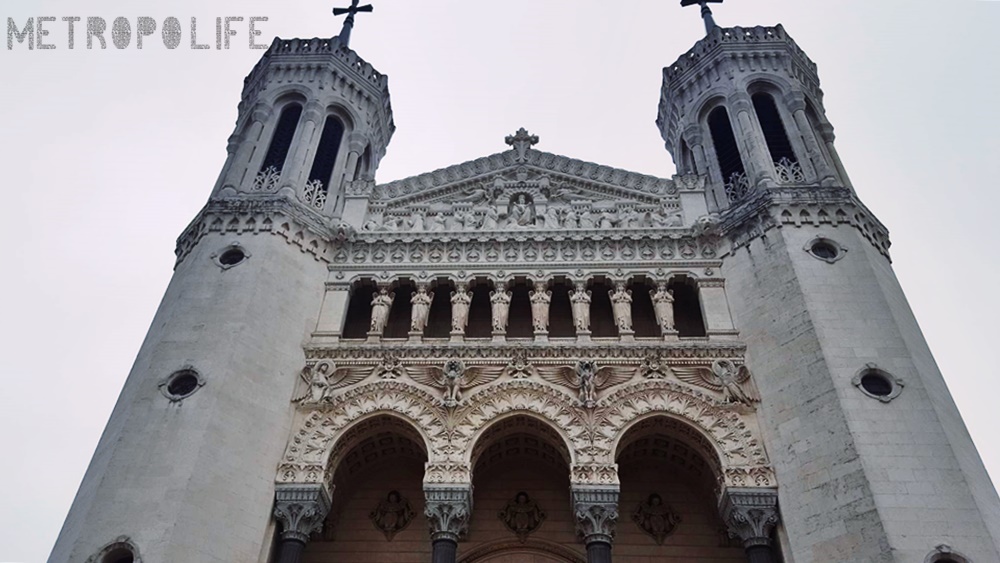 I always have a fond fascination for details in churches and cathedrals and the basilica has proven to be beautiful in the smallest detail. Every window, every painting, the ceiling, the atmosphere… I could sit in there for hours and just look at the different elements and details.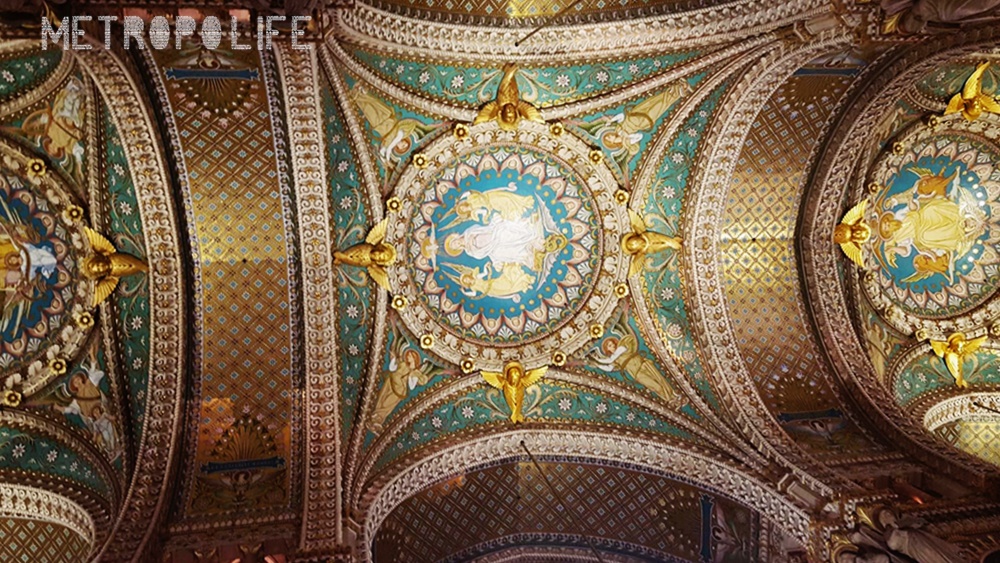 You should take some time and walk through and around the La Basilique Notre Dame de Fourvière, it will be worth every second. Behind the basilica is a view point where you can take a look over Lyon.
Just a few minutes walk from the basilica, you will find the ruins of the roman theaters (Théâtre Gallo-Romain) which brings you back in time.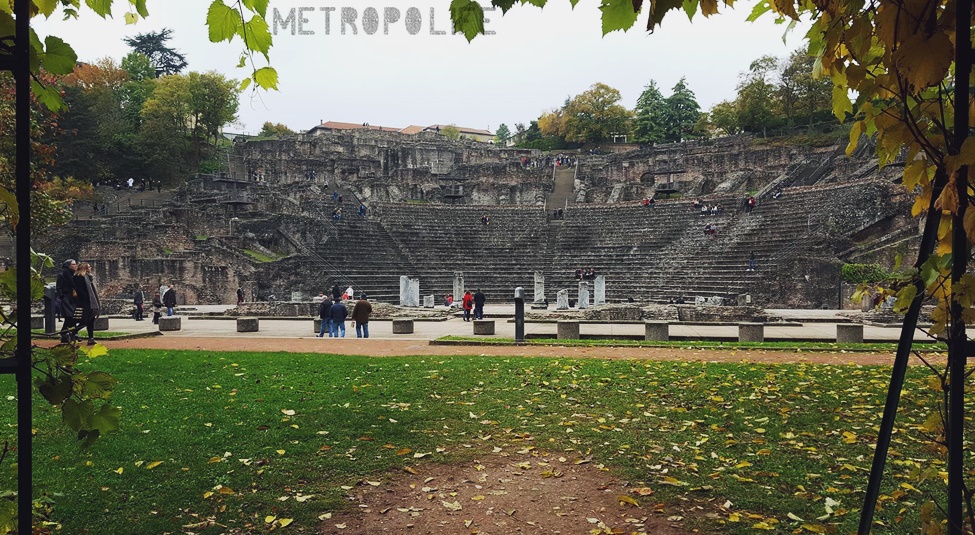 You can walk through the remains, breathe in the ancient aura and be amazed by the fascinating architecture and view from the theater. Sit down for a bit and take the impressions all in before continuing and discover more beauties of Lyon 🙂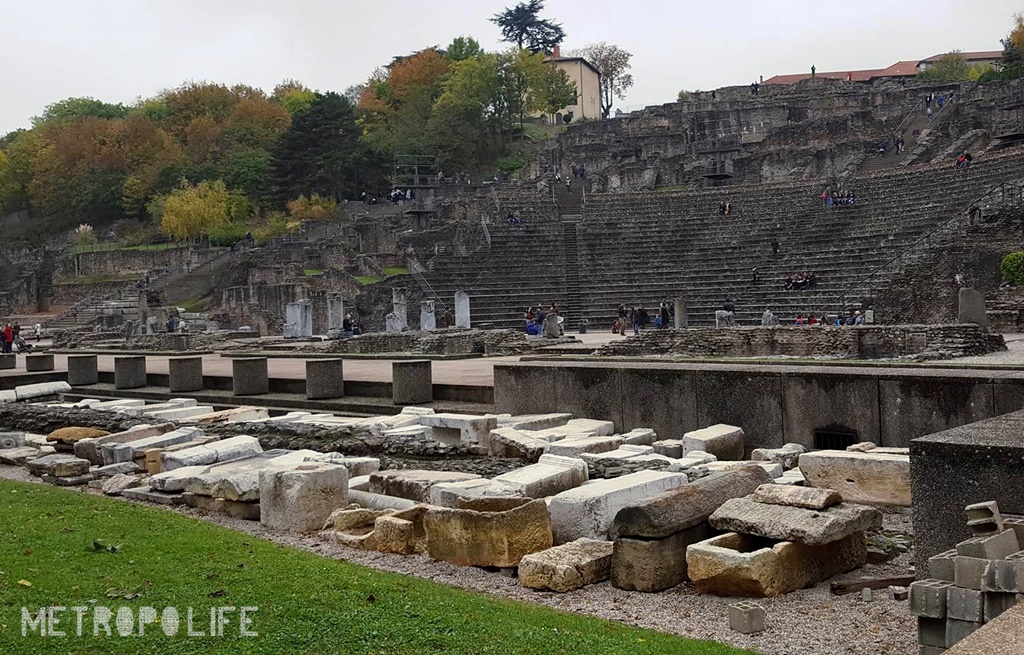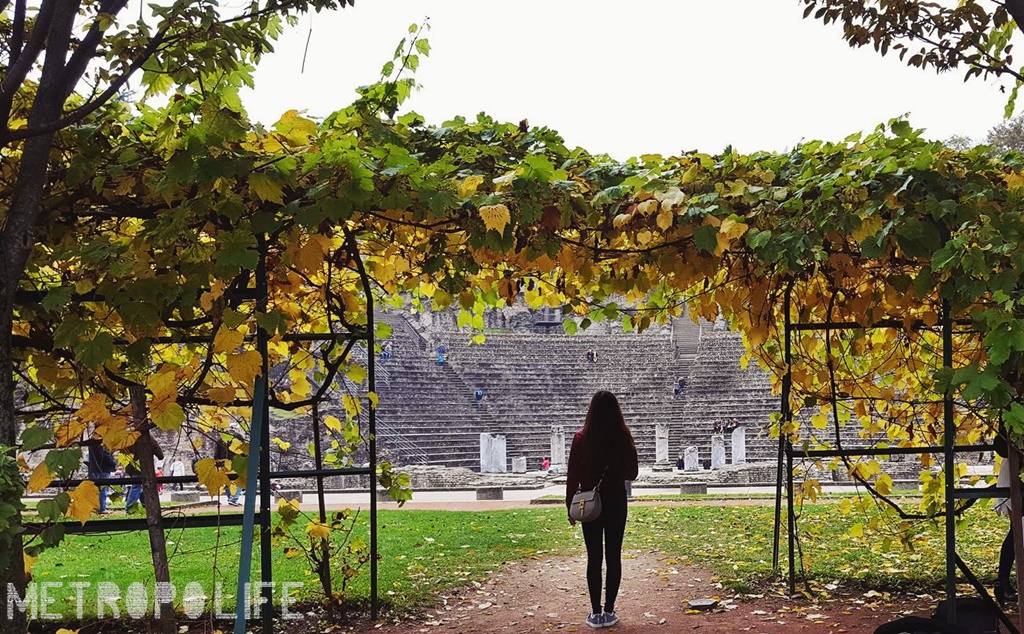 ---
The 3rd day: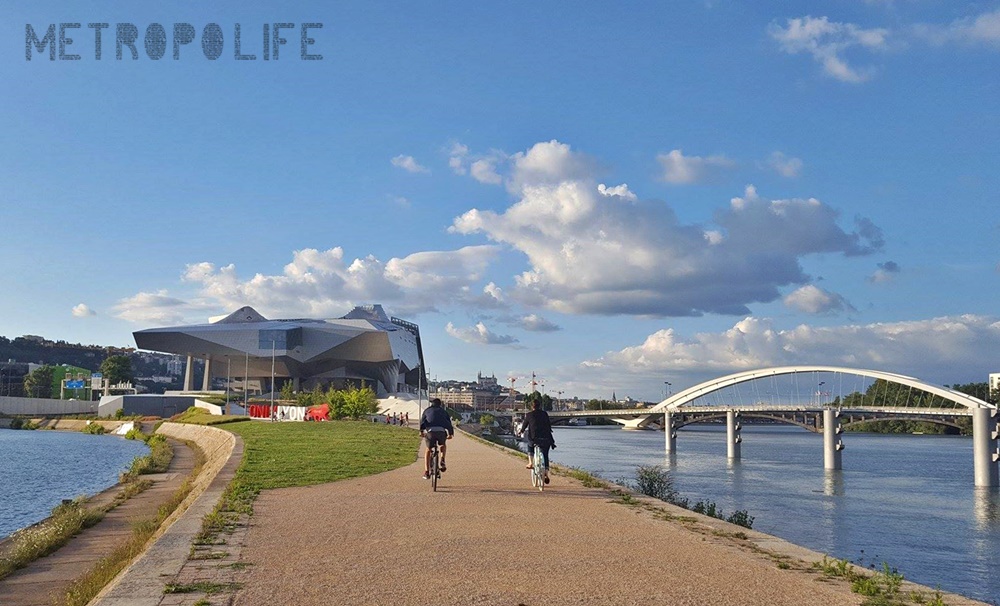 After all the hiking from the days before, the last day should be reserved to get to know the inner city and museums of Lyon such as Musee de Beaux Arts (Museum of Fine Arts) or Musée des Confluences (Science center and Anthropology Museum). Both is recommendable and if you are into architecture, Musée des Confluences should not be missed, since it is one of the most interesting buildings you will encounter.
Of course, if you already in the city and enjoy a walk, you will get to Hôtel de Ville, the city hall of Lyon. it is opposite of the opera on one side, and on the other side, it faces a big square. At night time there are bars and clubs in that area where you can enjoy a drink or two.
Next to the museums and the city hall of Lyon there are two places I would recommend you to see.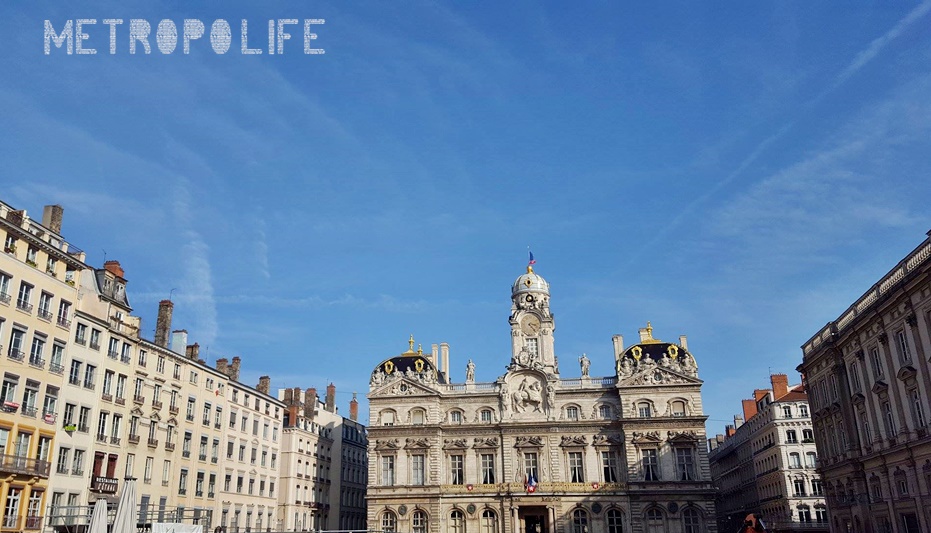 You can take the metro to Cordeliers Bourse and visit my favourite building of Lyon: Palais de la Bourse de Lyon which is the chamber of commerce and industry. Trust me, this is something you can take pictures of every single time you see it – at least that's what I did.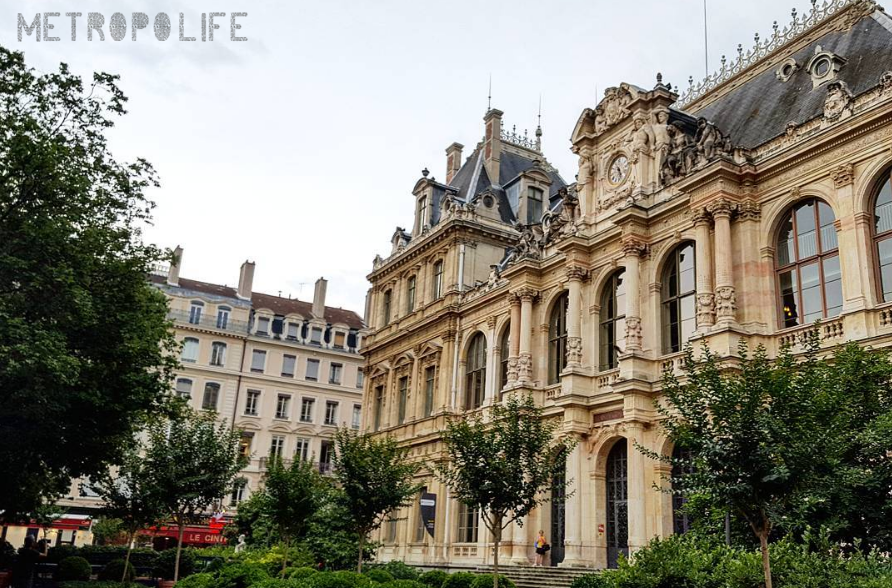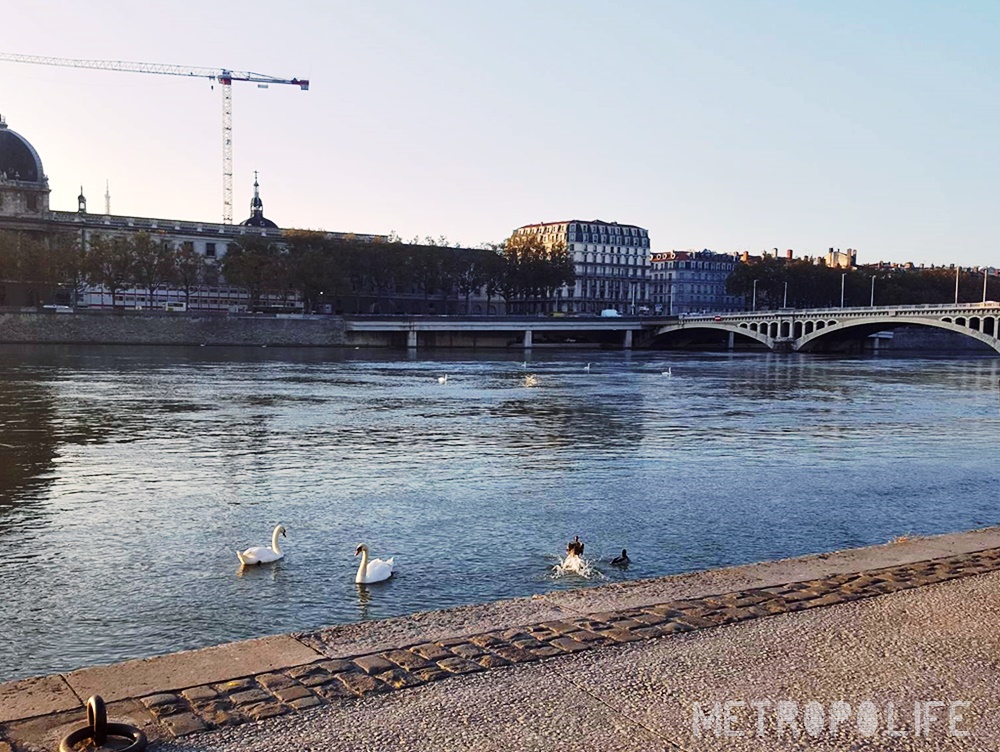 From there you can walk to my favourite place: la Guillotière. Even when I was there in late autumn, it was not too cold to sit down and enjoy the lively happenings along the riverside, the swans swimming on the turquoise water and the majestic Hôtel-Dieu de Lyon opposite the promenade. It's always been a special place to me but even without the memories of the summer, it is a beautiful place filled with both calmness and liveliness.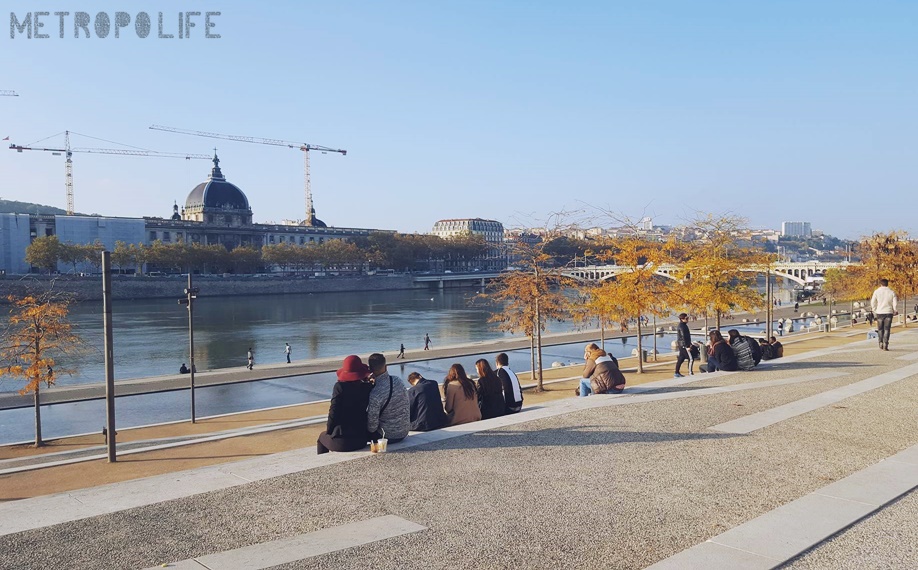 If you decide to walk further down the beautiful Rhône, you will eventually get to Musée des confluences.
For the last evening, I would get dinner at the lively street Rue Mercière. But before heading there, you can take a little detour and pass by Place des Jacobins. It is a beautiful square with a fountain located in the center.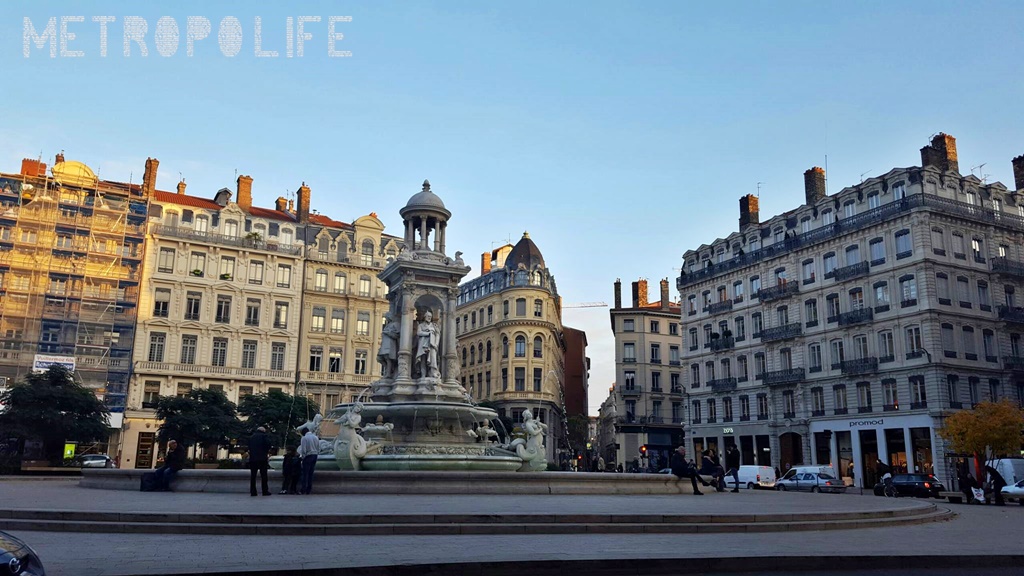 Finally, not far from the square, you will arrive at Rue Mercière. The street is lined up with french cuisine but you can find burger, bagel or pizza places as well. I am sure one of the restaurants will be exactly what you have been looking for and after dinner, you can go to one of the many pubs and bars close by. A perfect ending to the trip 🙂
---
Where to stay?
I have been staying at two different hotels which I can both kindly recommend. You can also rent an apartment via Airbnb for your stay if you have a low budget.
If you are looking for a cute and charming boutique hotel then Hôtel Silky (2 Place Francisque Régaud, 69002 Lyon, France) will be perfect for you! It is located in the heart of Lyon, just a few minutes from Rue Mercière – so you won't have to walk far to get back after you had dinner and drinks 🙂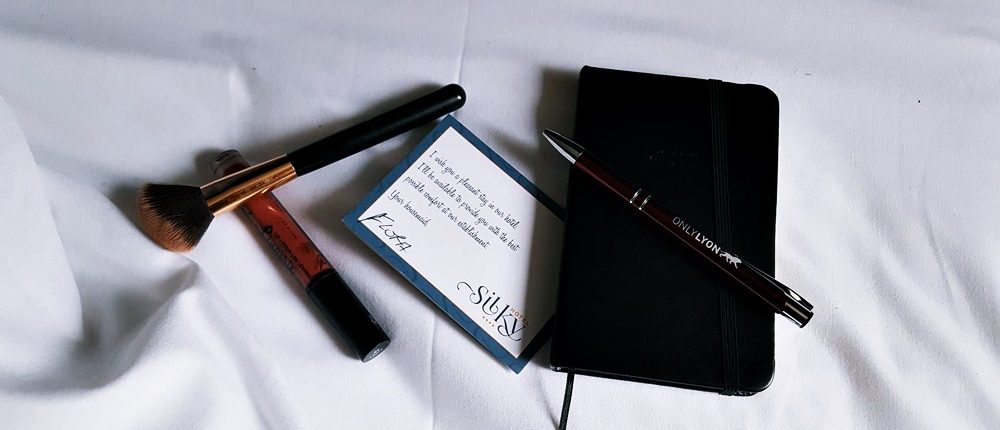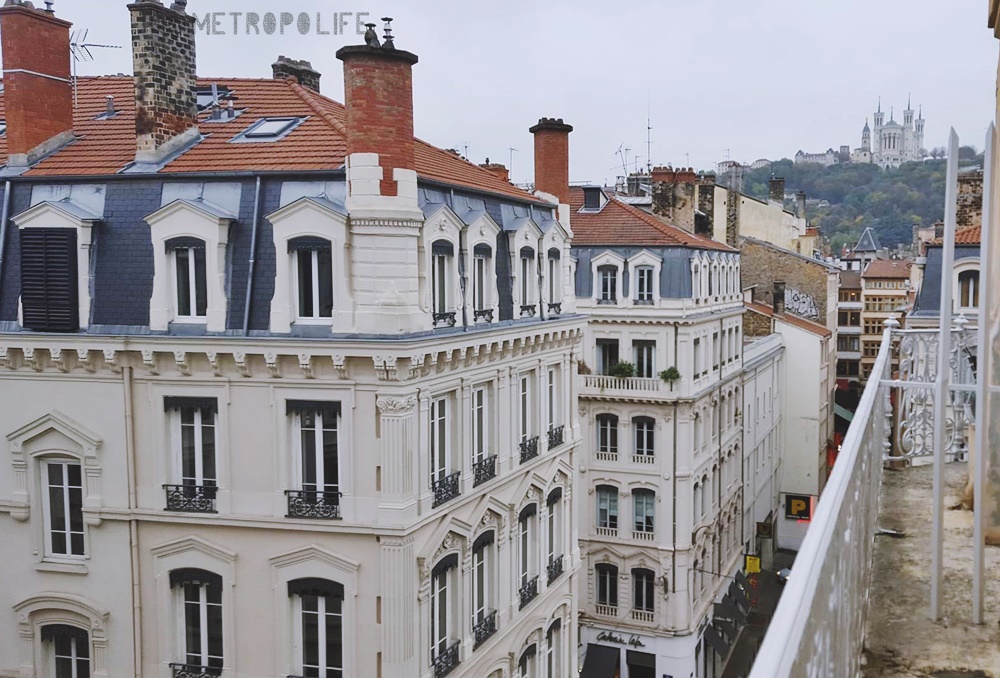 The room itself have everything you need: great wifi, a sweet and cozy bed, a TV and a bright modern bathroom. What I love the most was the cute little balcony from where I could follow the street life of Lyon. I felt like in a stereotype french movie with the balcony and the beautiful facades around me.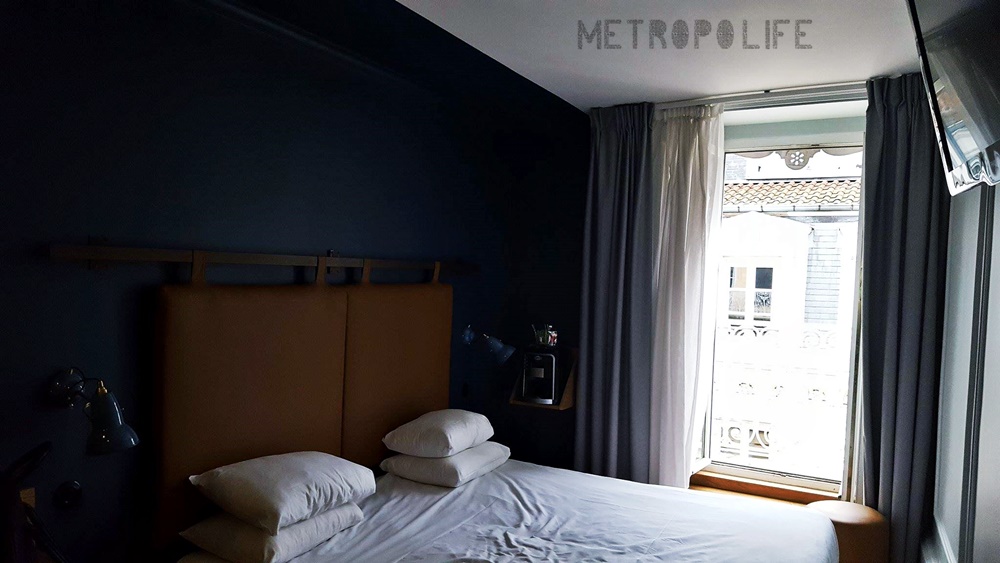 With our room, we had free breakfast and of course, it was delicious and had everything a French breakfast should have. It was served in the underground floor and had a very nice touch and special flair with the stone wall and the open kitchen.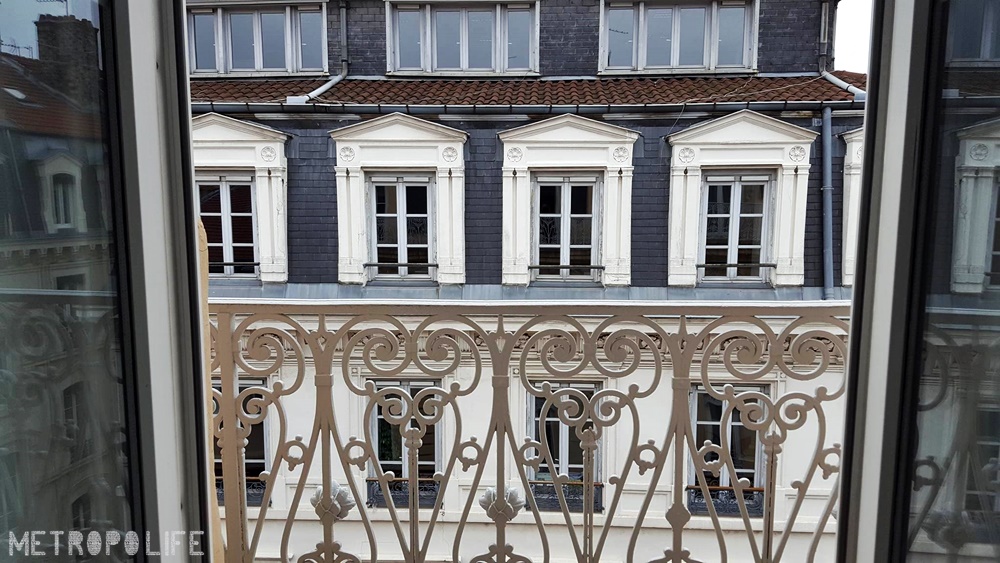 If you decide to stay at Hotel Silky, you can use the HAPPY to get 20% off your room and free breakfast 🙂 Check the website for more impressions and information: hotel-silky.com
---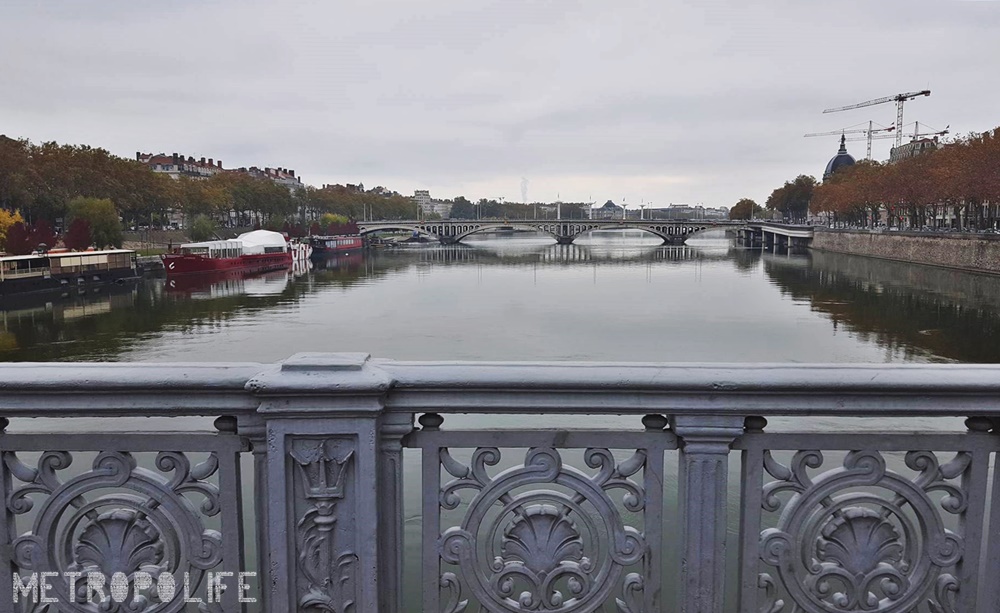 If you have a bit higher budget and want to really treat yourself for the weekend, you should check in the Okko Hotels Lyon Pont Lafayette (14, bis Quai du Général Sarrail 69 006 – Lyon).
 I fell in love with the contemporary design and interior of the hotel. The room was bright, modern and had everything I needed for the stay: TV, a table with a cute welcome note and candy, a bathroom with the most awesome shower and a comfy bed right next to the window.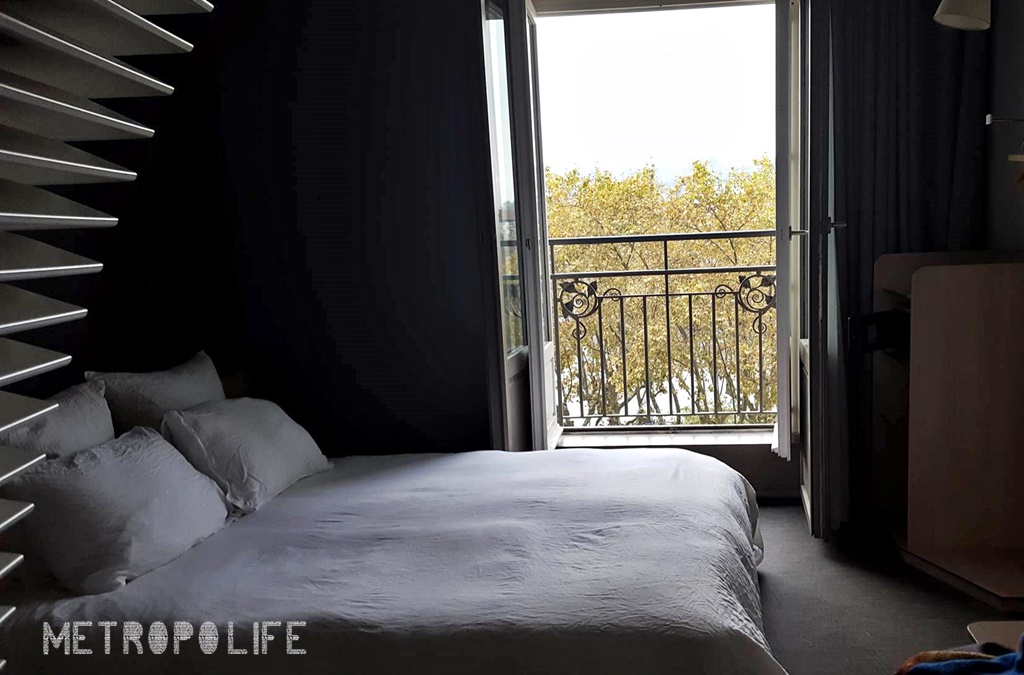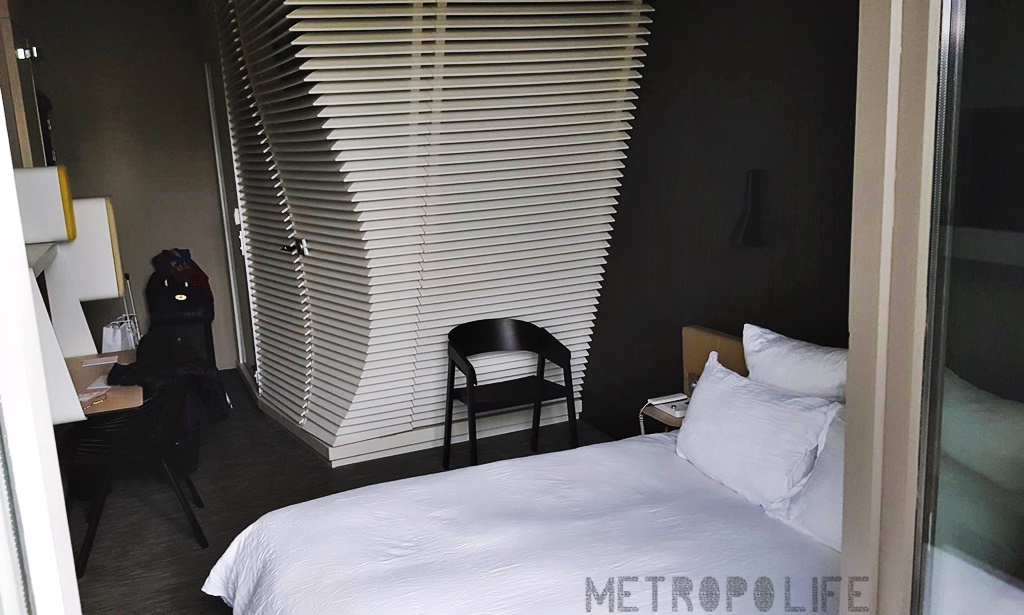 On top of all, the view was absolutely gorgeous. From my room, I overlooked the Rhône, since OKKO Hotel was located right on the banks of the river and I saw the Basilica from my bed (which was lit up by night and look like a castle on the hill). What a wonderful sight to fall asleep and wake up to 🙂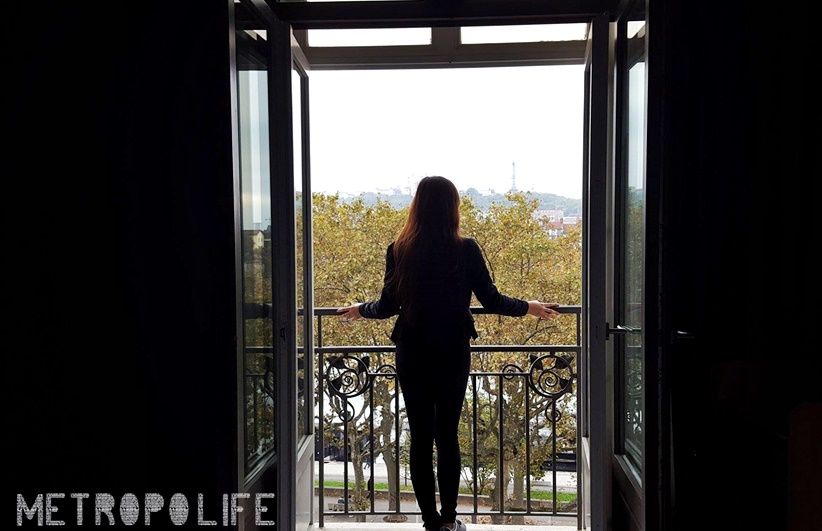 We had access to the lounge, where we could check our email (but there is Wifi in the entire hotel and the room as well), get snack and drinks, read the newspapers or just sit on the cozy couches and relax from hiking and our walks all over Lyon 🙂 It had a really "homey" atmosphere and especially in the evening it was perfect, with a glass of French wine, of course, we could let the day fade away and talk about all the impressions and beautiful sights we had seen.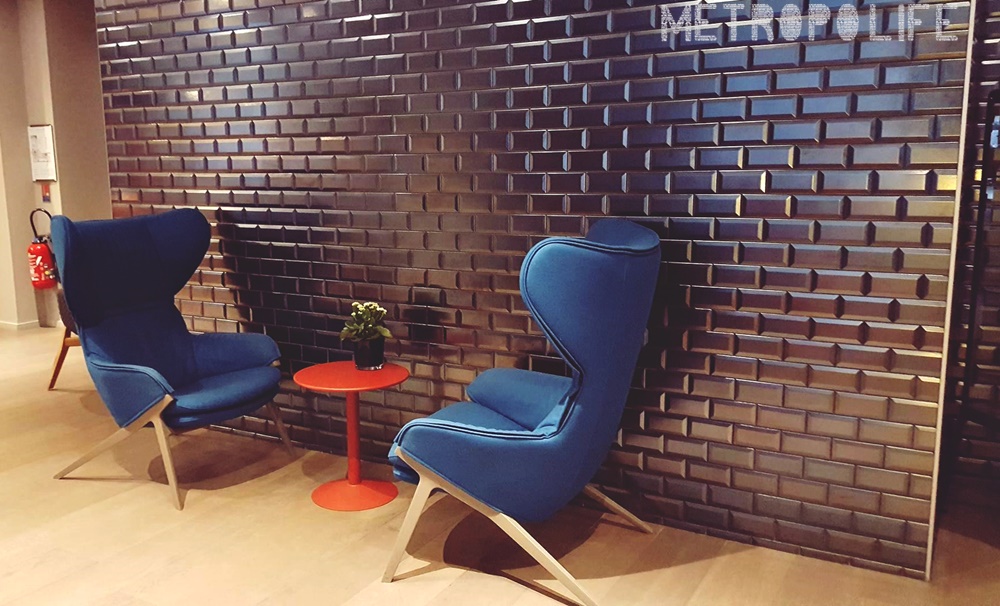 Breakfast is served in the lounge as well and it was included in our room. I can't think of one thing that was missing from the breakfast and what I liked the most were the cute little baguettes. I am a simple girl who gets very happy when she sees a baguette the size of a small water bottle. I wish I could eat them every day.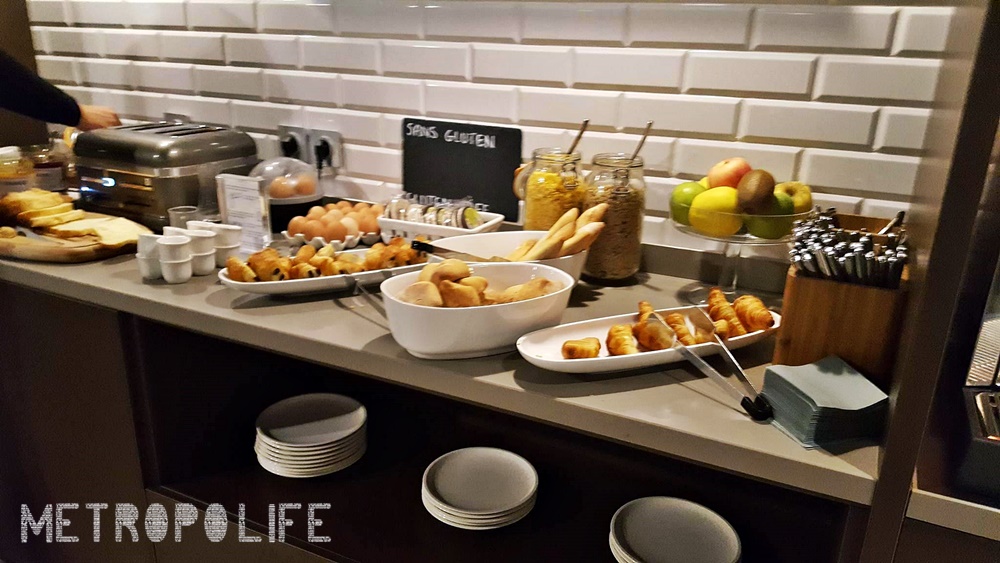 Breakfast at Okko Hotel
I really enjoyed my time at OKKO Hotel and the service and receptionist were really helpful and friendly. If you are looking for a modern, beautiful and interesting hotel with great service and lounge, this is the place to go 🙂 You can visit the website to get more information: okkohotels.com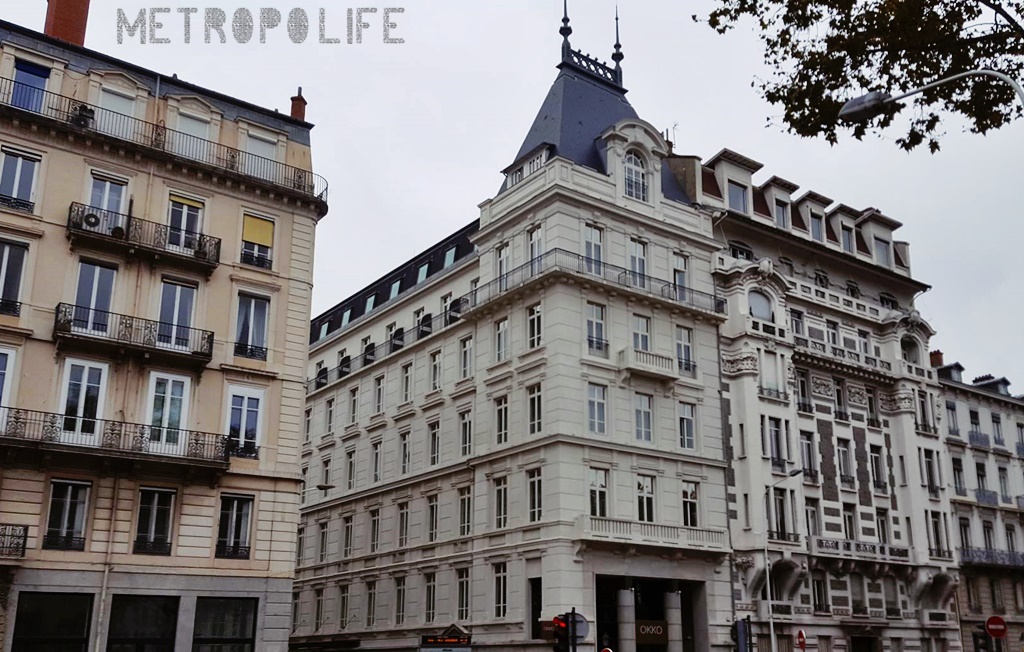 Okko Hotel from outside
---
No matter if you decide to stay in one of the hotels, at a friend's apartment or in an Airbnb or Couchsurfing, I am sure that you will have a wonderful and unforgettable weekend in Lyon.
The city offers so many beautiful sights, historical and modern architecture, romantic riversides with promenades and charming bridges, a lively inner city, a calm and relaxing park.. I don't think I can ever stop discovering new things in Lyon and I would recommend one last thing to everyone:
enjoy this magnificent city and discover its delightful beauty and French charm. I always think back at my memories of Lyon with a smile and joy 🙂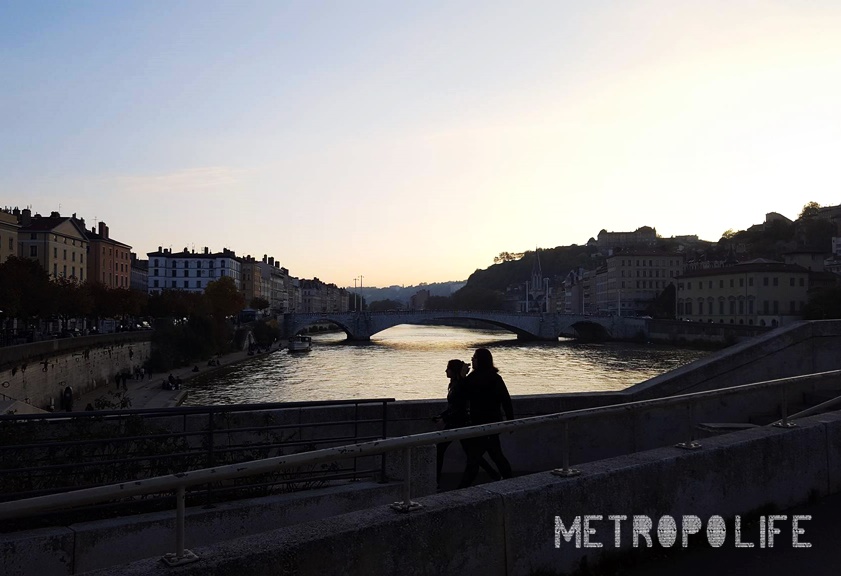 Sunset at the river Sâone
Additional Information and links:
A destination map with direct flights from to Lyon: lyonaeroports.com
Opening and Closing time of Musée des Confluences: museedesconfluences.fr
Festivals and Events in Lyon and more information for tourists:  onlylyon.com

Pictures of Parc de la Tête d'or under a white snow cover: Facebook.com/LyonFrance
---
My blog post about my time in Lyon with more pictures of this beautiful city, summer 2016: I love Lyon
Stay updated with more love for Lyon, Traveling and blog posts about life in Copenhagen on my Facebook Page 🙂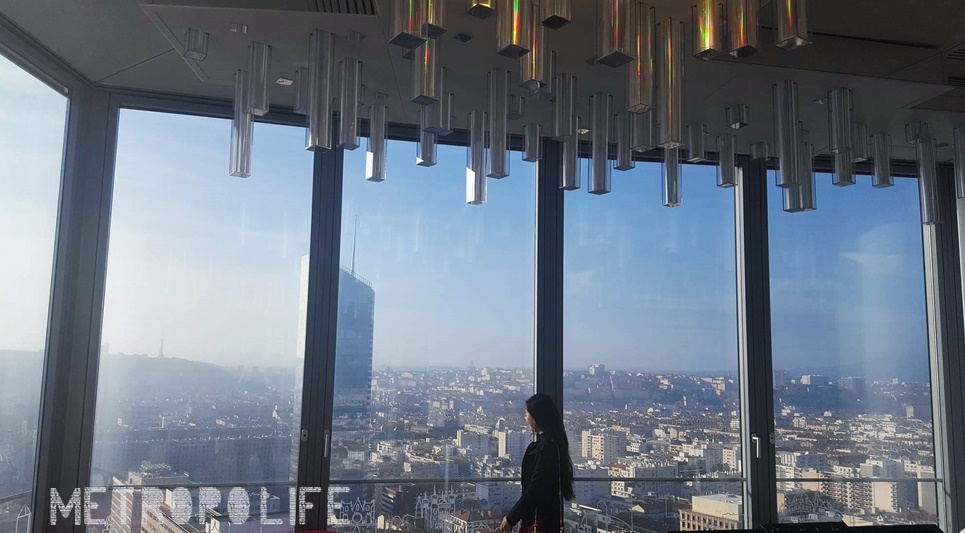 Thank you ONLYLYON for inviting me to the head office way above Lyon. It was amazing to see the city from this wonderful view and it was a special memory 🙂 Merci!
---
---

Follow my Instagram for pictures in Copenhagen. my travels, my love for Lyon and more 🙂
instagram.com/tuni.metropolife
Thank you so much for reading my blog post 🙂 I want to thank OKKO Hotel and Silky Hotel for accommodating me during my weekend in Lyon and ONLYLYON for inviting me to the head office and showing me my favourite city from a whole new angle. I can't stop falling in love with Lyon and I hope you will too 🙂 All opinions expressed are my own and reflect my own thoughts and ideas only.
[av_sidebar widget_area='Add' av_uid='av-24ugws
Feel free to leave a comment!