Around this time, a lot of international students come to Denmark and visit Open Days at universities and get themselves through the Bachelor and Master application process.
Before I moved to Copenhagen, I couldn't make it to these events because I was still in Australia – therefore I didn't know what to expect at all, when I moved here.I wasn't sure if I could get along with any knowledge in Danish or if the Scandinavian lifestyle differs a lot from the one I was used to.
One of the stereotypes I heard was, that people from Nordic countries preferred to be left alone and are a bit socially cold. I am a very open and straight forward person, who likes to get to know new people and their stories (and I have a weird kind of humour). Luckily this stereotype turned out to be totally wrong in my personal experiences – almost all of my friends, my boyfriend and most of his family members are Danish and when I first met them, I did not feel a single moment of shyness or cold distance. All of them were open-minded, curious and very kind – after a year I consider my boyfriend's family as my own and vice versa. I couldn't be happier that this stereotype isn't true.
Besides this, what will you experience when moving to Denmark/Copenhagen? What is it like to be an international student in the country of the Little Mermaid? Should you dare it and move ?
You'll become a multilingual person
English is pretty much spoken everywhere, and Danes speak perfect English. A lot of international students go through their study without learning Danish at all. In my case, I am very curious and open to learn new languages, therefore I take a weekly course and try to speak Danish a bit. Learning Danish is encouraged and supported by the state – you don't have to pay for the lessons and there are so many schools and courses, that you will have no difficulties to find the perfect one that is compatible with your studies and work.
Advice: Ask your Danish friends to start speaking Danish to you, even if it feels weird. I made the experience that it is difficult to actually speak because people are used to speaking English to you – but if you kindly ask them to change that, they will happily do so 🙂
You'll love the easy going universities
In my personal opinion, the universities in Denmark have a great system and study environment.  I study at CBS and I absolutely love the Career Fairs and Company Presentations, where you get to meet CEO's or Head of different Departments of big companies like Nordea, H&M or Facebook, listen to their presentation and talk to them in person. The lectures in Danish universities are quite small, you can almost compare it to a private school in Germany. My courses are never bigger than 50 to 80 students. You are on first name basis with your professor, you can email and call them if there is a problem. In Copenhagen there are a lot of places where you can study,  if you want to spice things up (Black Diamond for example or one of hundreds lovely cafés in town).
You'll be more independent
Moving out of your home country is a huge step. Even if Denmark is right next to Germany, I still had to learn a lot and start an independent life and figure out how things work in foreign country on my own. Now, I (sadly) can't simply call my dad up and ask him about Danish taxes or what to do when the internet /phone/ rental company overcharges or if he has contacts, where I could apply for a student job. You will learn to solve all the small and big problems in daily life yourself. After all, I feel proud that I could find way  in another country and make it my home.
You'll to have an easy going lifestyle
In my personal opinion, life in Denmark is way more "chill" than in Germany. Like I mentioned above, the study life is really easy-going and flexible ; moreover the dating life is very casual and relaxed, the work life is tolerant – a normal office job stops around 4pm latest. Students have a whole summer of vacation. usually exams finish around June"July and until September you can enjoy your freedom. The Danish state supports students in a lot of matters as well: SU for starters, boligs penge, or SU loans. Danish people are the happiest for a reason, and you should find out why 🙂
You'll get to know a new culture
The Danish culture might be weird (again, who leaves their baby outside while shopping?) but it is great to get to know a new culture and different perspectives on daily things. Did you know that Danes are obsessed with lakritz? And have you tried the Danish food and sweets yet? Personally, I think that Danish frikadelle is to die for! I am so happy to see and try new things and learn about the Danish culture. The German in me was surprised about all these flags in Danish homes (it is very uncommon in Germany). The Vietnamese in me wondered that everyone was on first name basis, since our culture say that we have to address older or superior people with a polite pronoun or title – but here everyone is on first name basis and "Du".
You'll grow
There will be good and bad times, and you will get through both with ease and learn many life lessons. Personally, I became so much more confident through my time abroad. I am not afraid to move to another country further away in Asia or back to Australia in a few years. Quite the contrary, I am excited to start a new chapter, learn new things and get to know another culture as an expat and not a traveler.All the positive and negatives things during your time here will make you grow. This was one of the most important reasons for me, and why I moved to Denmark. What was/is yours? 🙂
Metropolife Poster
SPRING SALE
Visit Metropolife webshop for Scandinavian styled posters for your home. Order now with free shipping here 🙂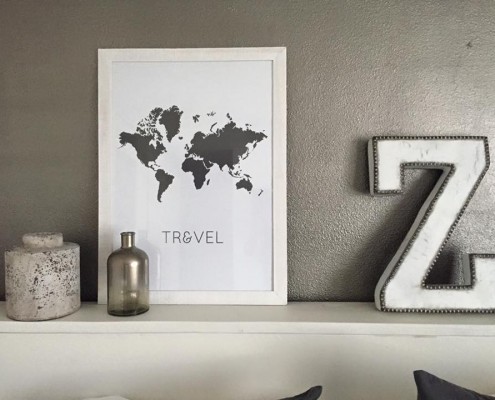 Feel free to leave a comment!