I fell in love when I moved to Taipei and it is a wonderful destination for a short trip, especially if you are already in Asia. Taipei has many different landscapes, urban spots, and nature. If you are a foodie, you will be in food heaven with all the night markets. amazing street food from all parts of Taiwan, the many traditional and local places and numerous restaurants.
Taiwan is a place with an interesting history, and Taipei is filled with historical landmarks, memorial halls, and museums. Strolling around the streets of Taipei make you fall in love with the loveable Taiwanese style and way of living. So.. what to do if you only here for a weekend trip and want to make most of it? Here is an itinerary for 48 hours in Taipei.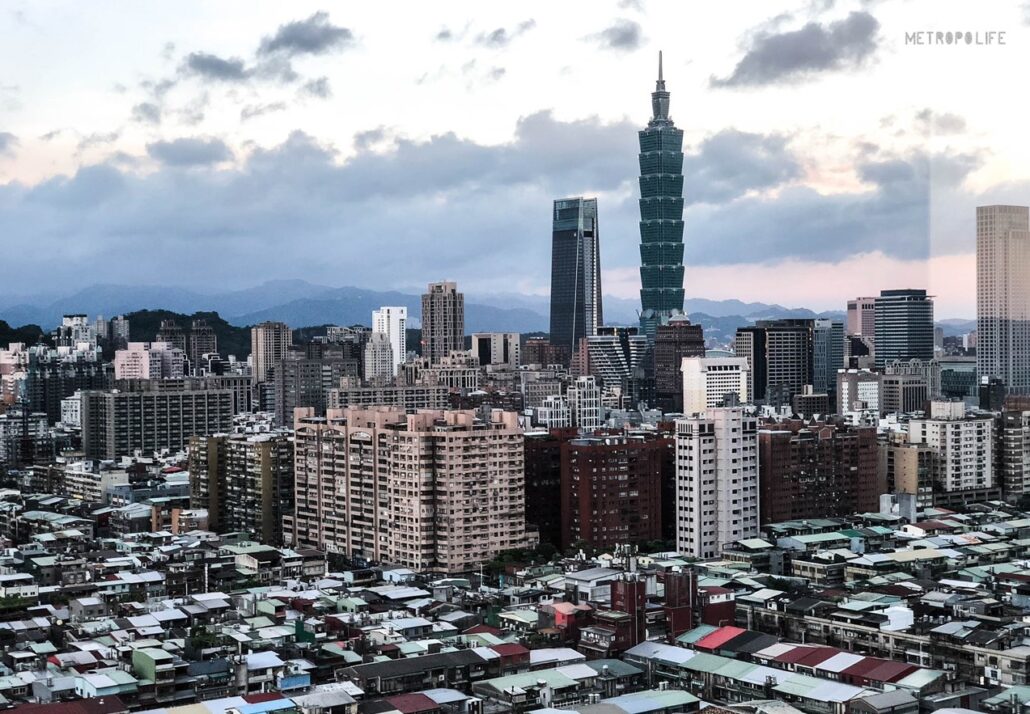 First day
10 am: Chiang Kai Shek Memorial Hall
After dropping your luggage off its perfect time to see one of the most popular sightseeing spots in Taipei. Chiang Kai Shek Memorial Hall is located in the middle of Liberty Square, where you also find the beautiful and historic National Theater and Concert Hall.
Address: No. 21號, Zhongshan South Road, Zhongzheng District, Taipei
11 am: The Original Din Tai Fung and Yongkang Street
Just a short walk from the Memorial Hall, you will find the original Din Tai Fung by Dongmen Station, Exit 5, where you can grab lunch. Din Tai Fung is famous for Xiao Long Bao and the chain is a Michelin star awarded chain restaurant with the original store located in Xinyi Road in Taipei.
Besides the famous steamed dumplings, you should also try Steamed Chicken Soup, Shrimp and Pork Wontons or Shrimp Fried Rice. These dishes are absolutely worth the wait since the waiting time for the branch at Dongmen can take up to 100 minutes. You can take a number and stroll around the famous Yong Kang Street (which also has an amazing selection of street food and snacks) and check out the area for cute souvenir stores, boutiques, bubble tea, and dessert shops!
Address: No. 194號, Section 2, Xinyi Road, Da'an District, Taipei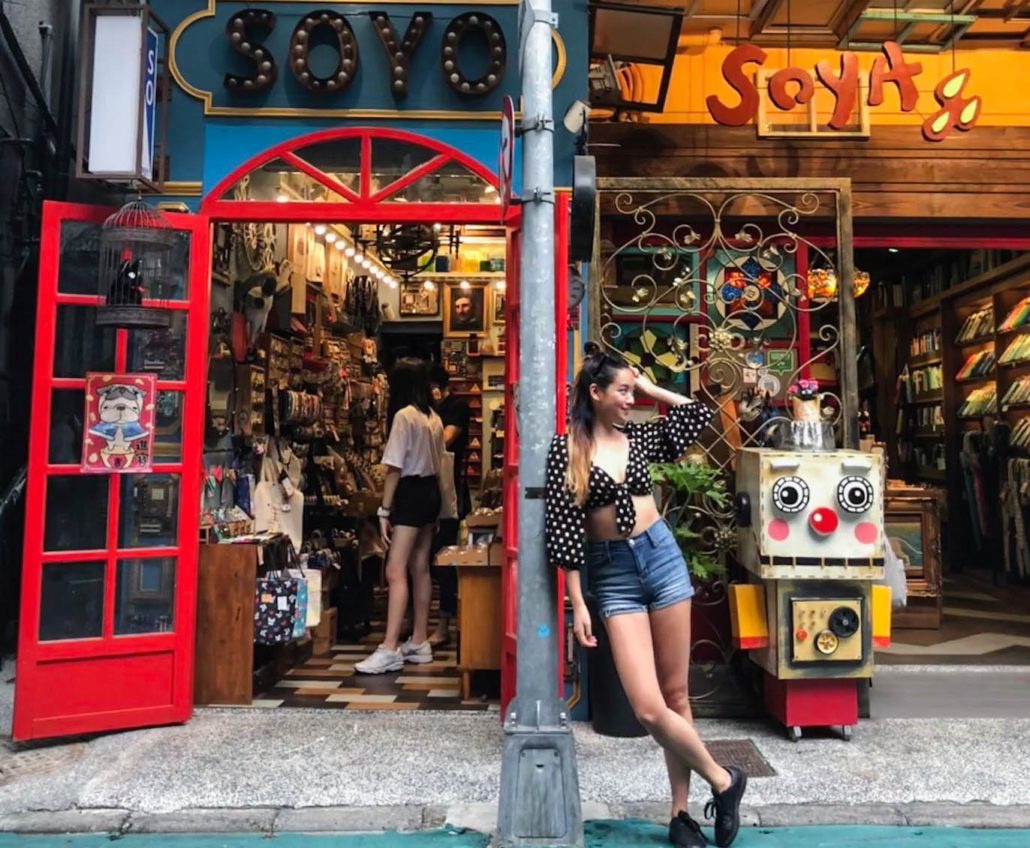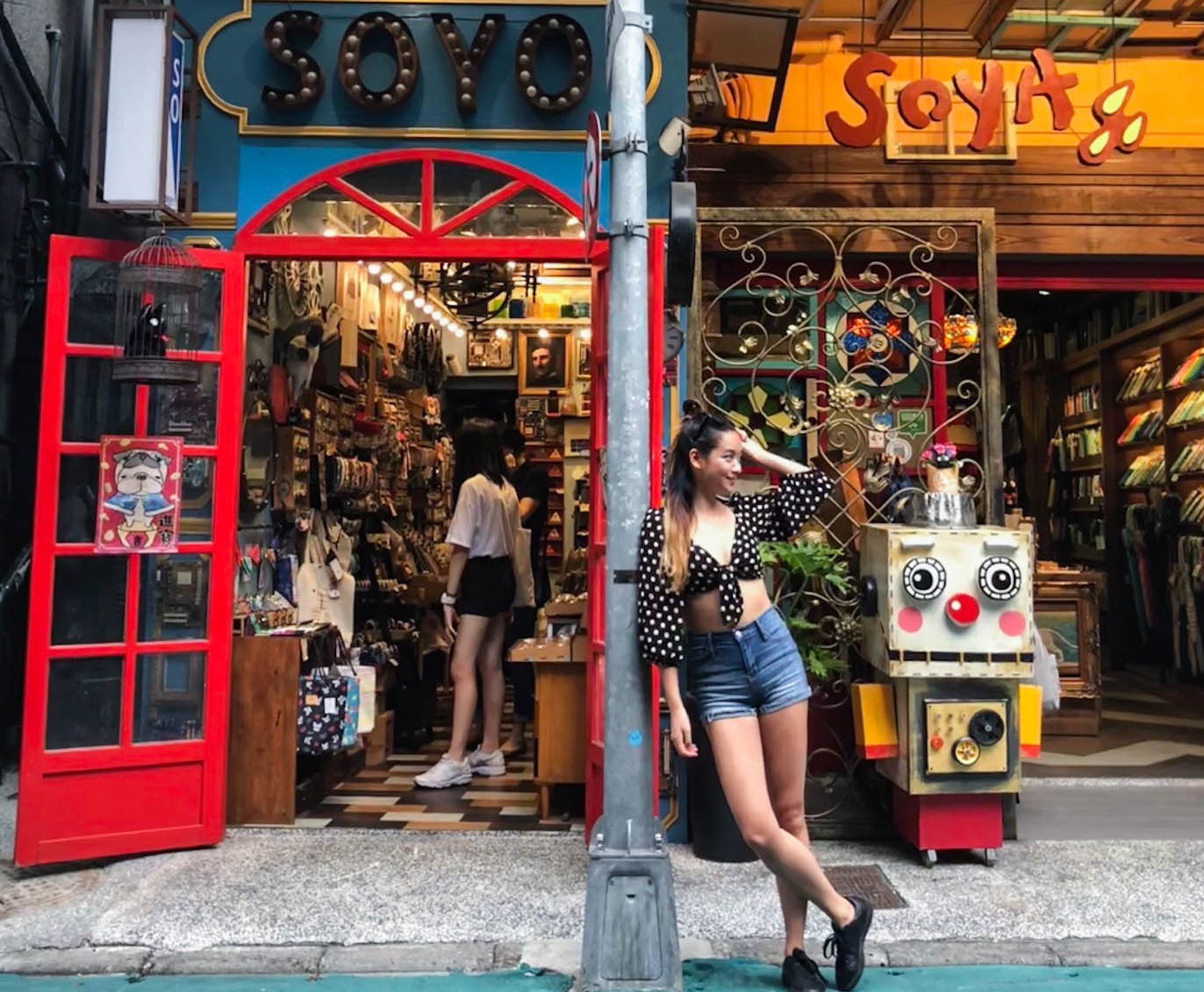 2 pm: Taipei 101
After a satisfying lunch, it is time to stroll around and see the famous Taipei 101 from up close. From Dongmen, it is only a few stops away with the red MRT line -you will be in Xinyi area in no time to admire the beauty of the skyscraper. Taipei 101 is designed to resemble a bamboo stalk and is 508-meter-tall and used to hold the title of the 'world's tallest building'. Within Taipei 101 and right next to it, you will find big shopping malls, such as ATT4Fun and the newly opened Breeze NanShan atre. These malls have numerous cinemas, bars (more about it later), shops and restaurants and you definitely get a feeling into Taipei's vibrant and more modern area.
Address: No. 7, Section 5, Xinyi Road, Xinyi District, Taipei
4 to 5 pm: Hiking up Xiangshan – Elephant Mountain
It's fun to be strolling around, window shopping and admiring the skyscraper but before the sunset, make sure to head one MRT further to Xiangshan. Right by the Exit 2 of the station you can hike up Elephant Mountain. This is where you will find probably the best view of Taipei. It is a short 20-minute hiking trail with mostly stairs, that bring you all the way up to Elephant Mountain.
Address: Xiangshan, Taipei City, Xinyi District
8 pm: Tonghua Nightmarket
After the hike, it's time for food! Since you are already by the red MRT Line you can just take the metro and go 2 stops to Xinyi Anhe where you will find Tonghua Nightmarket just 5 minutes' walk from Exit 3. The market is famous for delicious local food and snacks. From Teppanyaki to fried tofu or sweet potato balls or fried chicken, there is a wide range and the night market is closer than Shilin Nightmarket, which is a bigger and more known night market but it also a bit further away (around 30 to 40 minutes with the MRT) and usually very crowded. So if you feel like having a local dinner right after the hike, Tonghua Nightmarket is the place to go!
Address: Linjiang Street, Da'an District, Taipei City
10 pm: A drink around Xinyi
After dinner and walking around, how about you enjoy a drink with the view of the city? There are some bars in Xinyi area but my favourite one is FRANK in ATT4FUN with a rooftop and the other one is CE LA VI, the new lively bar on the 48th level next to atre Breeze Nanshan. The bar culture in Taiwan is pretty laid back and people enjoy a drink or two after a long working day. There are always new and tasty drinks which you can enjoy with a view. What better way is there to end the first day in Taipei? 🙂 (If you still don't want to call it a day CHESS Club and AI Nightclub are one of the good places to go out in Xinyi)
Address: Section 5, Xinyi Road, Xinyi District
Second day:
8 am: Taiwanese Breakfast
It's time to grab some Taiwanese breakfast. Hot or cold soy-milk, Xiao Long Bao, dumplings or You Bing (pancakes). The choices are endless and you definitely have to try it before you head to the next destinations. There is usually always a Taiwanese breakfast place around the next corner.
10 am: Longshan Temple
We start sightseeing the second day relaxed and traditional by visiting Longshan Temple, located in the less touristy area of Wanhua. The small temple is beautifully historic and traditional, a place of worship and prayers. According to locals, this temple is a destination for people to pray for relationships and love related wishes. Longshan temple is a wonderful place to visit while you are in Taipei to get an impression and view into the traditional and religious sides of Taiwan.
Address: No. 211, Guangzhou Street, Wanhua District, Taipei
12 am: Ximending
Very close to Wanhua district you will find Ximenting, which could not be more opposite from the traditional and calmer areas around the temple. Known also as Ximen or Ximenting is one of the most lively areas of Taipei and resembles Shibuya district in Tokyo. This part of Taipei is filled with commercial stores, lots of arcades, cinemas and entertainment. If you like to shop, you can find fashionable clothing and accessories in Japanese, Chinese and Western styles. Ximending is also famous for the Red House Theater, an arts center and right by the theatre, you find bars with live music and LGBT events. I wrote an article just about the area which you can visit below.
So, this is the perfect place to get some food and souvenirs. During the night time, Ximenting also has a nightmarket with food and accessory stalls infront of the store front. There is always a mass of people around Ximen, especially during weekends, so be prepared for a lively experience.
Address: Ximenting, Wanhua District, Taipei City
2 pm: Sun Yat Sen Memorial Hall
After the vibrant streets in Ximen, we head to a calmer spot next. Sun Yat Sen Memorial hall by the Blue MRT line is not too far away and the perfect spot to spend your afternoon. People come to the Memorial Hall to spend time with their dogs, fly their kites, enjoy the park and just take a break from the city surrounding them. Moreover, every day from 9am to 5pm on the hour, you can see the changing of the guards.
Address: No. 505號, Section 4, Ren'ai Road, Xinyi District, Taipei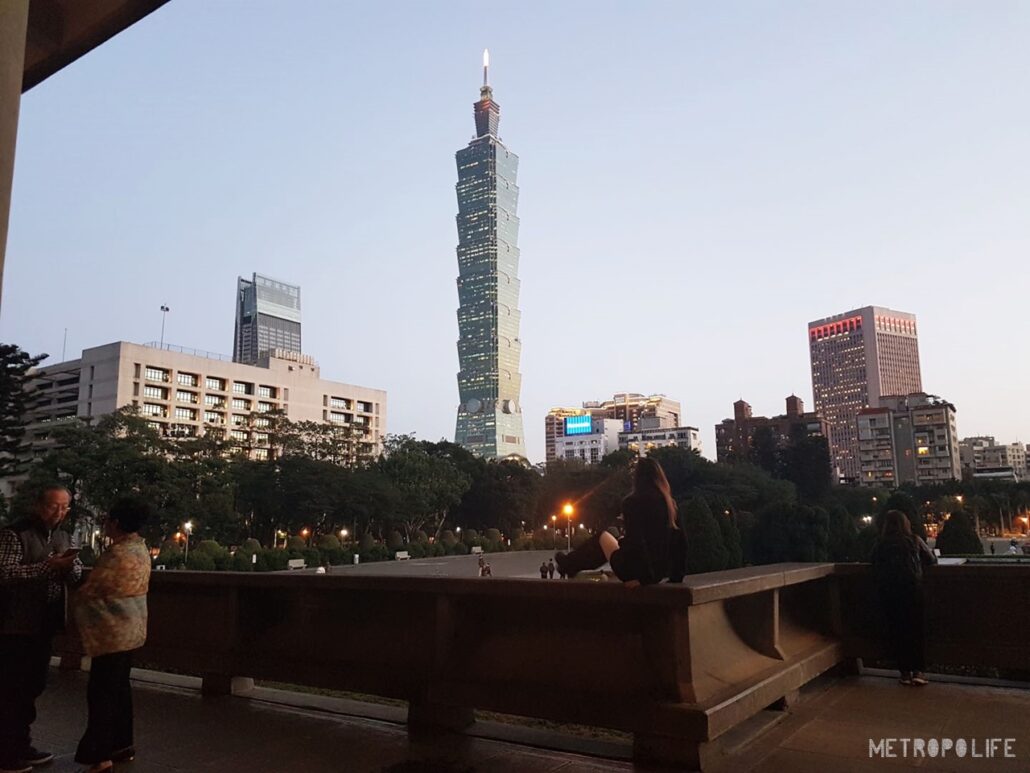 4 pm: Dongqu
Just a walk away, you find Dongqu, another unique area in Taipei that I beloved by locals. Dongqu literally means "East District" and is stretched by Zhongxiao East Road the Zhongxiao Fuxing. You can get there with the metro and get out by the stop Zhongxiao Dunhua with the Blue MRT.
6pm: Evening in Dunhua
This area is perfect to grab some delicious dinner, stroll around small boutiques and enjoy some dessert. There are also a number of bars around the area, from award-winning bars like KOR, which is one my absolute favourite (try the Guava cocktail, or the bubble tea cocktail if you like it sweeter). There are smaller bars, such as Bar Mood, On Tap or FOURPLAY, and hidden speakeasy bars like Alchemy with entrances you have to find. For myself, this is the perfect area to enjoy the last evening in Taipei 🙂
Address: Section 4, Zhongxiao East Road, Da'an District, Taipei
I hope you will love Taipei as much as I do. For more hidden places or personal favourites, hit me up in the comments or on my Instagram @tuni.metropolife. Enjoy Taipei! 🙂
[instagram-feed]
Feel free to leave a comment!