[av_sidebar widget_area='add']
[av_codeblock wrapper_element=" wrapper_element_attributes="]
[/av_codeblock]
[av_textblock size=" font_color=" color="]
I am and have always been a very curious person. Whenever I am over at a friend's place for the first time, I walk through their room and look at their interior: their style, decoration and small things that shows me a part from their personality. Of course every place is unique, its personal – but there are some patterns and similarities, some "Danish stereotype interior" you could say.
First of all, the apartments are all very "white" and minimalistic – a lot of empty space and white walls with black and grey decoration. It is like an unwritten code, that Danish people stick to (like the fact that most of them don't have a curtain).

But besides that – what else will you find in (almost) every Danish apartment?
Royal Copenhagen
every Dane has at least one piece from Royal Copenhagen: a cup, one or two plates or a vase. It is an expensive piece of porcelain, made with love and each one of them unique.
People who can afford it, might have an entire collection, some students will mix their Royal Copenhagen piece with IKEA tableware. Anyhow, apparently Royal Copenhagen is the must have for every Dane
Lyngby or Kähler vase
The classic and simple striped vases.
Every Danish household has at least one vase of each brand, or both – in big or small or all sizes. Seriously, these vases are everywhere.
A mini Danish flag
German's simply don't have that kind of tradition with their flags, so this is a typical Danish thing for me. Every family has a small, cute Danish flag at home for birthdays. On their special day, the flag gets place in front of the birthday kid. I found out on my birthday that restaurants has them too.
A typography cup from Arne Jacobsen
Black printed on White. The typography cup (sugar bowl or cans) are small and cute with their simplicity. I have seen similar styles in Tiger and Søsterne Grene but it cant compete with the original.  I own a little T-Cup myself (hahaha..Tea Cup.. T- Cup.. You just witnessed a classic Tuni joke – It's not funny.)
And how do Danes fill the white space in their apartments? Right..
Big posters
It can be simple black and white print, the classic Kortkartellet or a minimalistic, colourful print.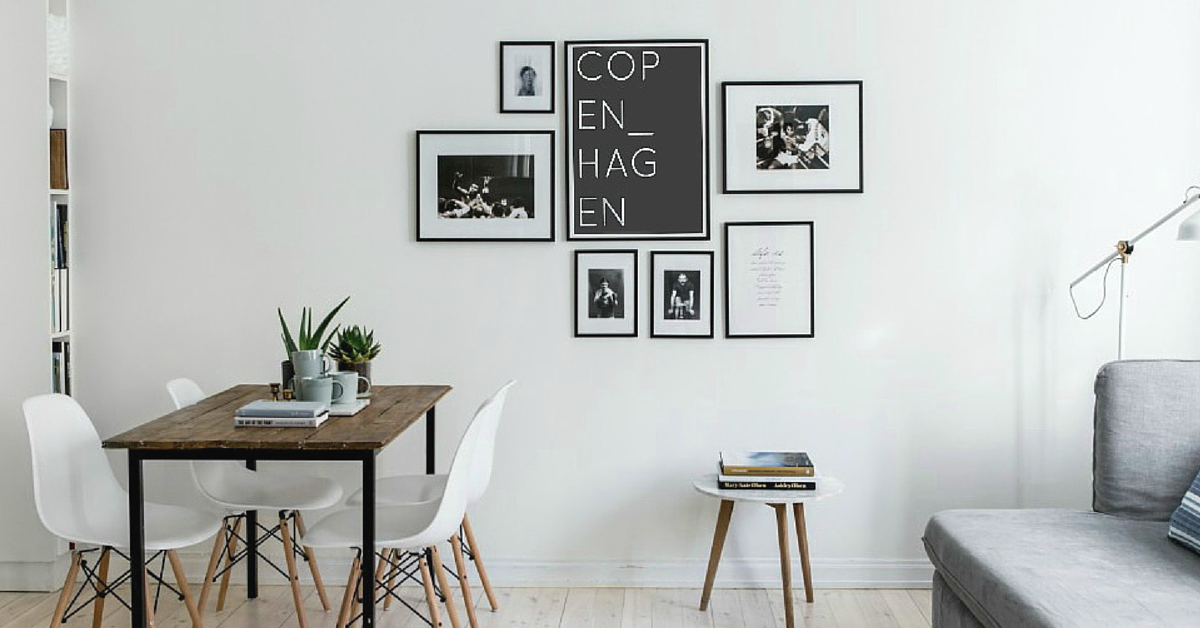 This is one of the reasons why I love my own small webshop: every single poster is being decorated in a totally different way and place. Everytime I see a picture of how my customers decorated their wall, I am amazed and happy to see my little projects in their new home somewhere in the world 🙂 I added them in the online store here.
Copper
This might be not only a Danish, but an international trend. A small copper vase or lamp, maybe a mirror can be the highlight in the plain white and grey apartment. No matter if you go to HAY, Bolia, BO Concept or Søstrene Grene: Copper decoration and details are everywhere.
What you
wont

find in almost every (old) Danish apartment:

a big, proper shower (it's more combination of shower and toilet in a 1,5 sqm room )
(I couldn't find a stylish looking one in Pinterest 😛 )
What about you? I am wondering, all the Danes (and Danish expats) who just read this: from all points mentioned above, how many of them do you have in your apartment? 🙂
[/av_textblock]
Feel free to leave a comment!