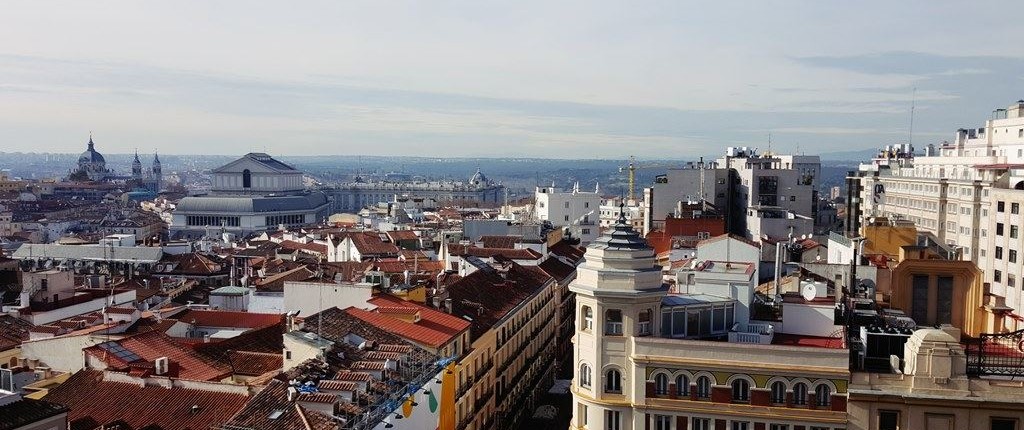 I decided to start a new series on my blog called : "Travel cheap from Copenhagen"
After all the scammer guides, cold winter and SU check lists, I felt like writing about something more relaxing 🙂 And what is more relaxing than a few days off and going on a short (weekend-) trip?
My most recent one was in January: 4 days in Madrid – and believe it or not, Thomas and I did not spend more than 1400kr (200€) each – in total for flights, accommodation and food. How? I'll share my budget and my favourite sightseeing spots in Madrid with you 🙂
How to get there and where to stay?
Flights: Since I am a student, we can only afford to travel on a budget – therefore Ryanair and free activities are our best friends!
At the moment you can fly direct from Copenhagen to Madrid for around 400kr with Ryanair or Norwegian – back and forth. We booked our flights one month in advance (in the beginning of December) for 300kr each.
Of course you can only bring a light carry-on suitcase with you, but honestly, that will be enough for a few days.  When you arrive, make sure you don't pay more than 200kr (30€) from the airport in Madrid to the city center (we arrived in the evening and the taxi driver wanted to charge 50€ – not with me!). The ride will be about 30 to 40 minutes – depending on the traffic 🙂
Accommodation: My parents and my sister  flew from Bremen and we spent 4 days and 3 nights in Madrid. I rented a place on airbnb from a local guy who has 28 other listings. It seems like an agency, but I didn't mind because the apartment was clean and we even got a bottle of red wine as a greeting, the service was great and they even had an office where we could store our luggage after check out.
Here is a small apartment from the same agency (with a small kitchen and wifi).
The apartment we rented had a kitchen as well. That is how we saved money on food, by buying food at the local supermarket so that we could eat breakfast and sometimes dinner at "home". The location was more than perfect – it was right at Gran Via. Gran Via is the shopping street in Madrid. Every touristic viewpoint and sightseeing spot is in walking distance from there and we didn'tt spend a single krone on bus or taxi fare during that time.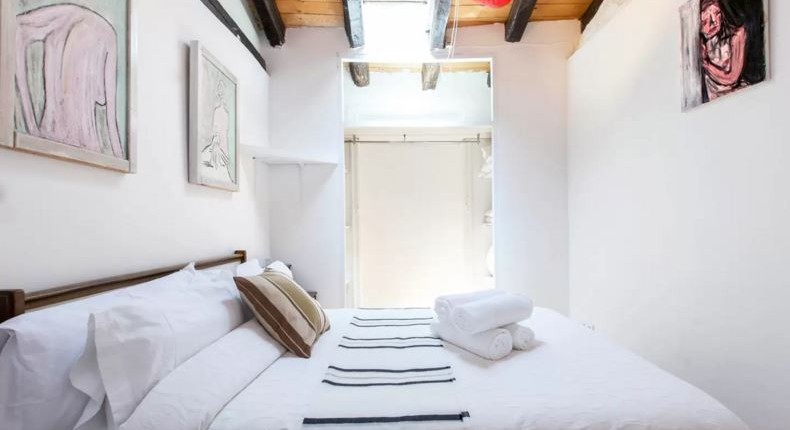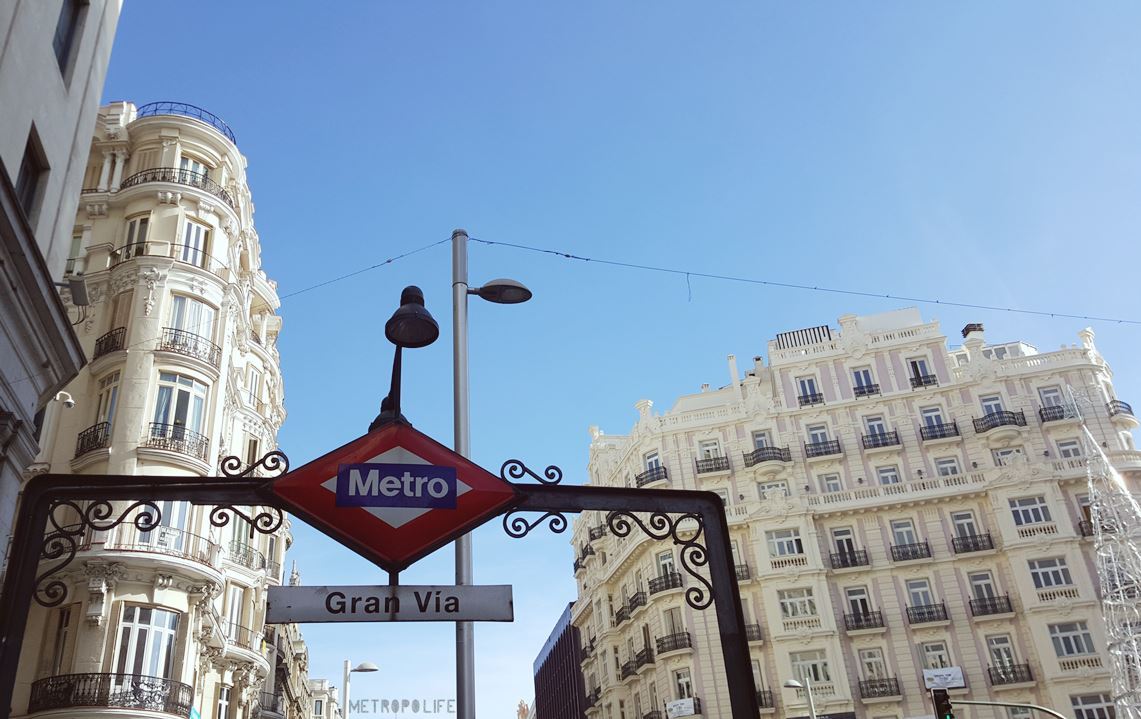 What to see and do in Madrid?
The Viewpoint
Quite close to the apartment/Gran Via, around 3 minutes walk, is "Les Corte Ingles" – a chain department store. If you go up the 9th floor and walk past the gourmet food corner, you will see a huge terrace. From there you will have the most wonderful view over Madrid, especially when the sun is out. We were in Madrid in January and it was a wonderful day when we went up.
You could go to a viewpoint and pay a few Euros to go on top, but it won't be better than this.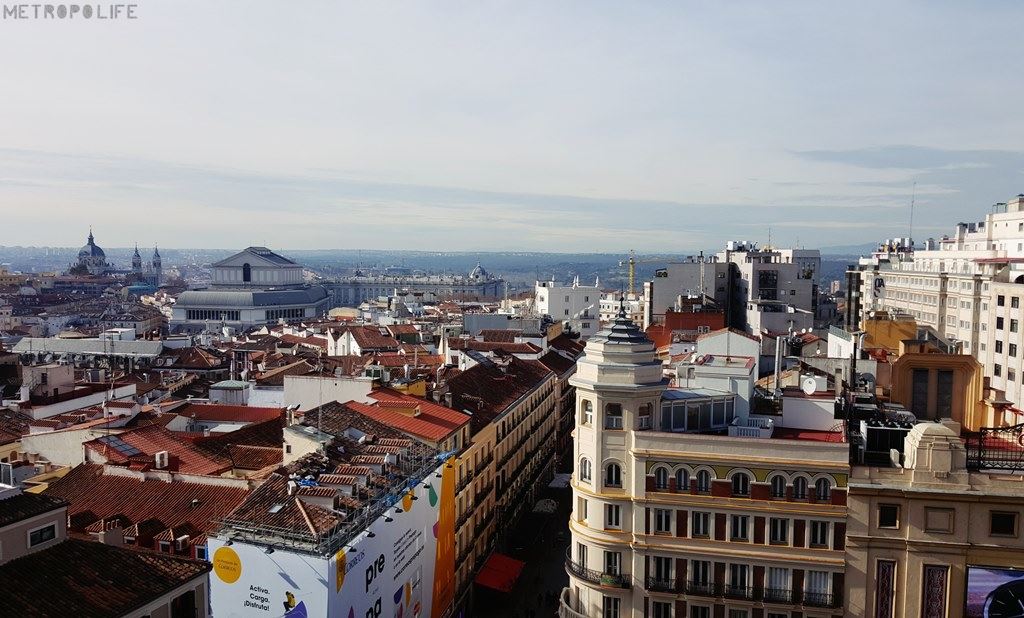 Puerta del Sol
If you pass "Les Corte Ingles" from Callao and walk down the streets of the old town Madrid, you will eventually get to the Puerta del Sol. It is one of the busiest squares in Madrid. There you will find the famous bear statue as well – the symbol of Madrid. Note: The statue is as big as our little mermaid 😉
Major Plaza
Not far from Puerta del Sol is Major Plaza, the central plaza of Madrid and the prettier one in my opinion. When walking from one square to the other, I was amazed by the inner city of Madrid – it is one of the most astonishing ones I have ever seen. Plaza Mayor is huge, rectangular shaped and surrounded by buildings with hundreds of balconies facing the plaza. When we were there, street musicians were playing, artist were performing circus acts – it was full of life 🙂
Royal Palace of Madrid
Another must visit is definitely the "Palacio Real" – the royal palace of Madrid with its huge garden. Only 15 minutes from the apartment/Gran Via, you find the beautiful palace with its impressive architecture and luxurious details. You have to pay entry to go inside, but we only had 4 days so we decided to spend them exploring the city instead of seeing the inside of the palace.
Mercado de San Miguel
Close to the royal palace is "Mercado de San Miguel" , a market where you can try  out tapas, Spanish sea food or a variety of gourmet food and enjoy it with a glass of wine. The atmosphere was buzzing and joyful and there was all kinds of tapas – it was a culinary paradise! It might be crowded and a bit of a mess to squeeze yourself around, but the food is really worth it!
Buen Retiro Park
My absolute favourite spot in Madrid is the Buen Retiro Park. It was 15 minutes walk from where we stayed – and it was mostly walking down the lively Gran Via with its shops and hotels. The architecture all the way to the park was remarkable. I couldn't stop looking up.
The park itself is perfect for a nice afternoon walk and  a coffee break. Buen Retiro Park is the largest park in the heart of the city. The highlight is the blue lake with the Monument to Alfonso XII. I loved everything about this park – the beautiful the statues, monuments and galleries.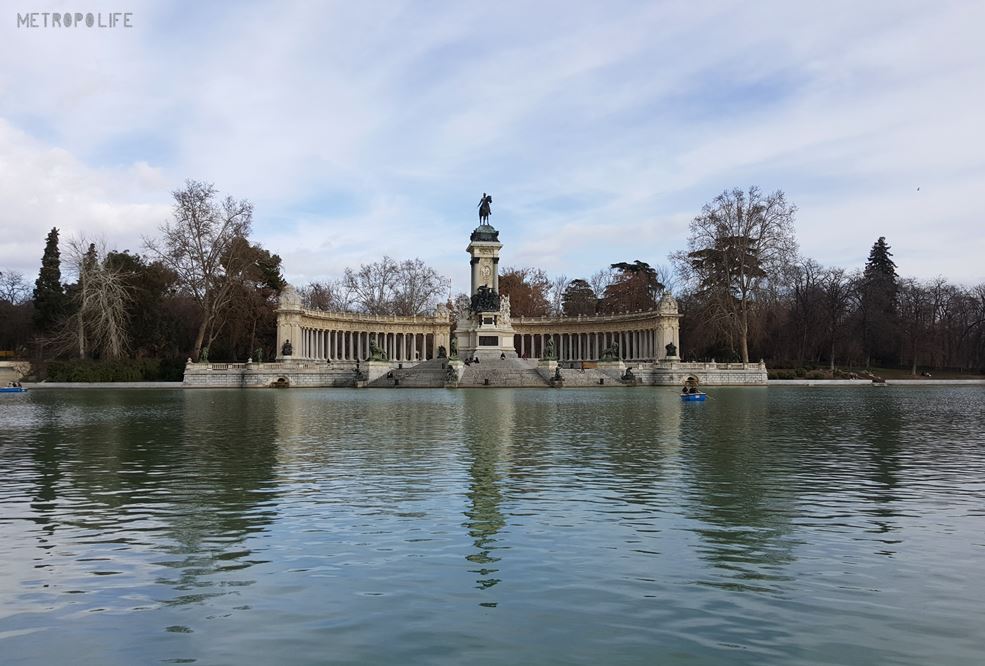 Every activity I mentioned in this article did not cost anything (besides going INTO the palace or buying food at the Merchant). And to be honest, it was enough to fill our agenda for the days we spent there. We couldn't make it to the stadium but since none of us are Real Madrid fans, it was not a big loss 😛
Our total budget
Thomas and I spend 600kr on flight and around 1000kr on accommodation. Furthermore we spend 400kr (60€) on the taxi back and forth from the airport to Madrid center (since we were 4 adults and a 2 year old, it was the cheapest and most convenient way). There is a fast shuttle bus and metro lines, which will take around 1h from the city to the airport. Tickets are ca. 4-5Euros / 30kr per person.
With food and a few souvenirs, we spend another 800kr. That is a total of 2800kr for 4 days and 3 nights in Madrid.
Madrid is a beautiful get away for a few days and it is "only" a 2,5 hours flight away from Copenhagen. Even though we were there in January, it was warm and sunny – a little escape from the Scandinavian winter. We enjoyed the city, its lively streets and beautiful architecture – hopefully you will too 🙂
My latest project: Check out my minimalistic and Scandinavian styled poster in Metropolife webshop. Order until 1st March and save 10% with the code CPH 🙂
Feel free to leave a comment!