Growing up, my parents had a little grill in Goslar (a small little town in Germany) back in the beginning of 2000. That is where I spend a lot of time during my childhood. It wasn't until a couple of years later when I was 13 or 14, that we moved to Bremen and upgraded the little grill for a restaurant. It was and still is a great milestone for us, considering that my parents immigrated to Germany in the beginning of the 1990s and try to build up a life far away from their home country.
[av_sidebar widget_area='Add' av_uid='av-65kqrk']
I guess, I share this same story with lots of people with Asian parents who immigrated to Europe during the 80s and 90s. So coming from such a background, I always have a melancholic sentiment when I visit small bistros and Asian restaurants. I might sound funny but it brings back so many memories and somewhat joy – after all, it was the first thing my parents called "their own business" and I could not be prouder of my mom and dad of what they have achieved and how much they managed to change their life. And yes, that's really deep for just going into a grill and getting a burger or noodle box 😀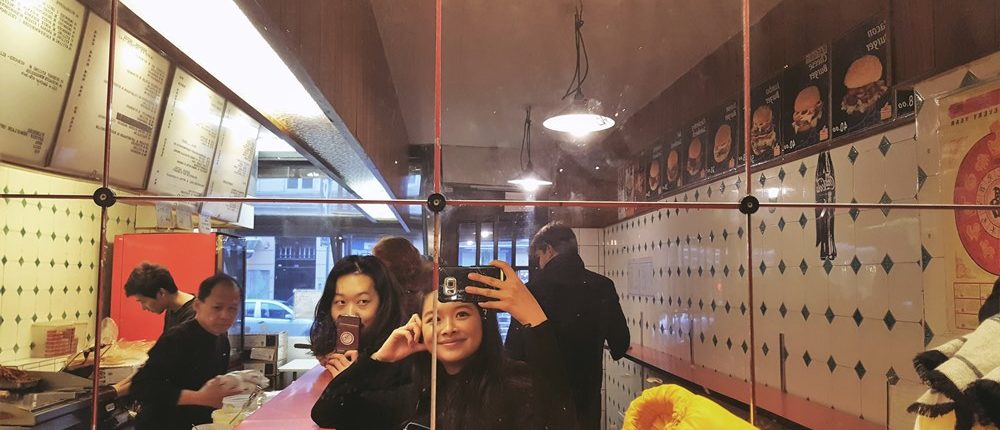 Anyway for me, I find one of the best Pork Burger (called Flæskesteg in Danish) not in a renowned and fancy restaurant in Copenhagen but in a small, late-night snack joint close to the main station at Istedgade. The Danish/Taiwanese fast food place "Isted Grill" has been around for over 30 years and up to this date, the place is run by the husband and wife Mr. and Mrs. Lee from Taiwan. I have been there a couple of times, and the humble, friendly man behind the counter always makes my day by grilling an amazing Flæskesteg Sandwich, which just tastes like heaven!
Even a foodie reporter from the Guardian praised the burgers as "probably the best pork burger in town". I have to mention that the reporter went to the grill at 3 am (and assume he wasn't totally sober at that time) but I still agree with his statement. It's the best burger in town – at least for me. Located at Istedgade in the vibrant area of Vesterbro, the small joint hasn't changed a bit since the 1980s.

[av_sidebar widget_area='Add' av_uid='av-3kvc5s']
To be fair, it does not look promising from outside but we all know appearances can be deceptive at times. Like in this case.. The first impression will be proven wrong. The visit will be worth it – even if you won't have the wave of sentimental and melancholic feeling of "Asian parents working hard and staying humble their entire life to make it possible for their children to have a good life" – I am sure you will enjoy the best burger in town without any fuzz and luxury, just a simple burger at a simple place 🙂
Thank you so much for reading my little view on a small grill in Copenhagen 🙂 This is not an advertisement and it's an unsponsored post – I just wanted to share this place with you because it reminds me a lot of the grill my parents had. If you have some time, you can read the story how my dad came to Germany as an illegal immigrant about 25 years ago: The story I heard so many times 🙂
Follow my Instagram and Facebook Page for updates and articles about living in Copenhagen & Denmark, Traveling and my own little thoughts on life 🙂
[av_sidebar widget_area='fblike' av_uid='av-24m4e8′]
❤️
STAY IN TOUCH
Feel free to leave a comment!