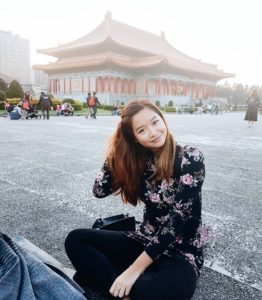 I am Tuni Nguyen, a German girl with Vietnamese roots, who moved to Denmark about 5 years ago. For the past 3 years, I have been living in Copenhagen and studying Chinese and Business at Copenhagen Business School. Before I moved to Scandinavia, I  grew up and lived in Northern Germany and for a couple of months in Southern France and Australia.
I spend last summer in Beijing and studied Chinese with the Confucius Institute  Scholarship and after a bit of traveling, I started my semester in Taiwan in September and lived in Taipei until the beginning of 2018. Now I am back in Copenhagen to graduate my studies.. and after that, who knows what will come? 🙂
I have a passion for languages (I speak 6 languages, 3 of them fluent), I love to travel, meet people and hear their stories and get to know them. I feel the happiest when I achieve the small and big goals I have set for myself. I also have a very weird kind of humor.
Next to my studies, I work in as Social Media Associate for a Danish furniture brand, as Editor Associate for a Danish-Chinese Media platform and Social Media Consultant for SocialProof, a Marketing Company based in Roskilde. I am keeping myself quite busy but it is not hard work when you love what you do, right? 🙂
I started my lovely blog Metropolife almost 3 years ago, in May 2015, and it has been a joyful adventure since the beginning. Metropolife is about my personal experiences and opinions, and many of my articles are about life in Copenhagen or my time abroad, traveling or studying. One of the reasons I created Metropolife to help other expats and international students understand the Danish lifestyle, universities, laws, and culture better.
Before I moved to Denmark, I could barely find information about the "real student life in Denmark". With my blog, I want to share my life in Copenhagen with you. I am also a passionate Instagrammer and update my daily adventures on my profile.
I hope you will enjoy reading my thought and I am always happy to read your feedbacks, comments, and emails 🙂
You can also stay in touch with me on LinkedIn and like my Facebook Page to be updated with the latest articles: Facebook.com/Metropolife
All articles are my own opinion. Please contact me before you use any articles, pictures or other on my page for your own platforms. © 2017 Thu Huong Nguyen (Tuni) ALL RIGHTS RESERVED