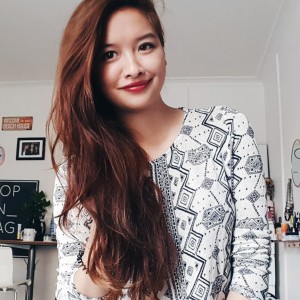 I am Tuni Nguyen, a German girl with Vietnamese roots, who moved to Denmark 3,5 years ago. For the past 2,5 years, I have been living in Copenhagen and studying Chinese and Business at Copenhagen Business School. Before I moved to Scandinavia, I lived in Germany and for a couple of months in Southern France and Australia. In 2016 I was lucky to do an internship and spend a summer in Lyon, which grew very much on me and in August 2016 I became an official ONLY LYON ambassador for the city.
I have a passion for languages (I speak 6 languages, 3 of them fluent), I love to travel, meet people and hear their stories and get to know them. Personally, I feel the happiest when I am sitting in an airplane, on my way to discover new places. I also have a very weird kind of humor.
Next to my studies, I work in as Social Media Associate for a Danish furniture brand, as Editor Associate for an online magazine and Social Media Consultant for SocialProof, a Marketing Company based in Roskilde. I am keeping myself quite busy but it is not work when you love what you do right? 🙂
I started my lovely blog Metropolife two years ago, in May 2015, and it has been a joyful adventure since the beginning. Metropolife documents my personal experiences and opinions, and most of my articles are around and about life in Copenhagen and Denmark. I created Metropolife to help other expats and international students understand the Danish lifestyle, universities, laws and culture better.
Before I moved to Denmark, I could barely find information about the "real student life in Denmark". With my blog, I want to share my life in Copenhagen with you. I am also a passionate Instagrammer and update my daily adventures on my profile.
I hope you will enjoy reading my thought and I am always happy to read your feedbacks, comments, and emails 🙂
You can also stay in touch with me on LinkedIn and like my Facebook Page to be updated with the latest articles: Facebook.com/Metropolife
All articles are my own opinion. Please contact me before you use any articles, pictures or other on my page for your own platforms. © 2017 Thu Huong Nguyen (Tuni) ALL RIGHTS RESERVED